Samsung appears to be already developing Android 12 and One UI 4.0 for its 2019 flagship phones, i.e., the Galaxy S10 and Note 10 series. The 5G versions of these devices can now be seen at the online benchmark Geekbench running Android 12, or more specifically, a pre-release version of the firmware, which Samsung is now presumably testing before rolling out the first public build in the coming months.
Both the Galaxy S10 5G and Galaxy Note 10 5G got benchmarked several times over the past few days, and they both ran Android 12. Of course, there's always the possibility that we're dealing with fabricated benchmarks made to look like these Galaxy flagships are running Android 12, but nothing seems out of the ordinary. The benchmark scores are within normal parameters, and so are the hardware specifications listed on Geekbench.
All signs indicate that Android 12 is to the 2019 flagships in a month or two
Samsung testing Android 12 for its 2019 flagships means that we should be getting closer to the first public release. As to when the Galaxy S10 and Note 10 series might be getting One UI 4.0, Samsung's roadmaps already confirm that the company is aiming at a January timeframe, at least in some markets. In others, the update could be released later, while in select markets it could go live sooner. According to Oculus, the Galaxy S10 series might be getting Android 12 as early as December.
It will be interesting to see just how many One UI 4.0 features will make it to the Galaxy S10 and Note 10 series once the update goes live, especially since Android 12 will be their last major OS update.
You can expect SamMobile to release another Android 12 (One UI 4.0) hands-on video once the firmware is available for the Galaxy S10 and/or the Galaxy Note 10, so don't forget to follow our social media channels linked below.
SamsungGalaxy S10 5G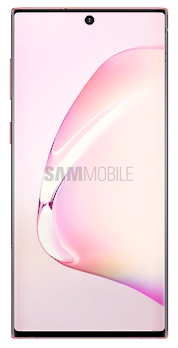 SamsungGalaxy Note 10 5G
Join SamMobile's Telegram group and subscribe to our YouTube channel to get instant news updates and in-depth reviews of Samsung devices. You can also subscribe to get updates from us on Google News and follow us on Twitter.