It's been a little over two years since the Galaxy Note 10 series was released. Incidentally, I've been using the base Galaxy Note 10 model as my daily driver ever since its debut, even though my position at SamMobile allows me to try out various Samsung devices as soon as they're released. Nevertheless, I usually stick to a two-year upgrade schedule for my primary flagship, not because the temptation of upgrading every 6-12 months isn't there but because I believe it's reasonable to expect a flagship phone to last for at least 24 months from its debut.
The Galaxy Note 10 is my daily driver more than two years after release, but it's probably going to be my last Note-branded Samsung phone. The Korean tech giant hasn't released a new Galaxy Note this year and appears to have shelved the series indefinitely. The Galaxy S22 Ultra could end up as a spiritual successor to the Note series, but we'll see about that come February.
Regardless of why I kept the Galaxy Note 10 for this long, and considering the Galaxy Note series' uncertain future, now feels like the perfect time to look back and review the experience I had with the 2019 S Pen flagship for the past two years. Was it worth it? I believe so, but saying that my view on the Galaxy Note 10 hasn't changed at all over the past 24 months wouldn't be entirely honest. It's not all roses, so let's start with the positive.
Stability, performance, battery life – two years later
I'm happy to report that I have no recollection of my Galaxy Note 10 ever crashing or rebooting unexpectedly. The phone functioned admirably in this regard, and performance continues to be more than satisfactory in most apps, with the caveat that I very rarely find the time to play games on my phone.
Having said that, I did try Asphalt 9: Legends recently, mainly because I remember how well it ran on my Exynos-powered Galaxy Note 10 when the phone launched, and I must say that the phone no longer performs as good — at least not in this particular test. That is, with the Games Plugin set to maximum performance, which doesn't leave much room for improvement. If any.
The game's graphics may have been tweaked in the past couple of years to take advantage of newer SoCs, so it might not be a good tool for assessing my phone's actual performance loss over this period of time, especially since it continues to perform well in other apps and One UI. But it is something to consider if you have an opportunity to buy a Galaxy Note 10 now.
And speaking of performance in the UI, I have been using 2x faster animations in One UI for a while now, as they help the UI feel snappier.
Your experience with demanding apps may vary. The Qualcomm-powered Galaxy Note 10 model will likely give different results two years later because Snapdragon chipsets are generally better optimized for mobile games, and game developers tend to offer better support. So keep in mind that my long-term experience is limited to the international variant.
As for battery life on a single charge, it seems to be holding up pretty well, though I have noticed a drop — enough that would make me more cautious about preserving battery life throughout the day. However, I need to point out that my smartphone usage patterns are somewhat erratic, as I rarely commute, and I spend the bulk of an average day in a home office environment. I rarely get the chance to stream movies or watch online videos in public transportation, and when I don't, I have a charger close-by, most of the time.
S Pen productivity software got better
Samsung has released two major Android OS updates for the Galaxy Note 10, and with them came improvements to One UI and the S Pen software suite. Samsung Notes and PENUP, in particular, got a lot of attention over the past couple of years, even though some things were addressed later than others. Initially, I had a gripe with PENUP because it lacked layers, but Samsung addressed the issue through an update released earlier this year. Better late than never.
Samsung Notes is also a lot more organized thanks to a major update which, thankfully, was released at the same time as the Galaxy Note 20. It introduced a new file format and a folder system, a reworked UI that has a bigger focus on expanding the writing space, and new tools for adjusting tilted text and inserting audio clips. An earlier update also added much-needed undo/redo buttons for text.
Personally, I don't recall many cases when I needed Air Actions, but I wouldn't necessarily describe this as a disappointment. I didn't get the chance to make a PowerPoint presentation in the past two years, and I'm not much of a mobile photographer, but the S Pen came in handy as a remote shutter button on a few occasions. Evidently, your mileage and opinion about Air Actions might vary depending on your environment; however, my view on Air Actions hasn't changed ever since Samsung introduced the feature along with the Galaxy Note 10 all those many months ago. It's a neat addition that can be useful, but it would probably take a while for me to realize if Air Actions were to disappear without notice.
Some things are beginning to feel outdated
The Galaxy Note 10 was released at the end of the 60Hz era. Its sequel, the Galaxy Note 20, also had a 60Hz display, but the larger Galaxy Note 20 Ultra model boasted a 120Hz refresh rate. Today, customers expect a 120Hz display from every Galaxy flagship. The emergence of 120Hz panels makes my Galaxy Note 10 feel a bit more outdated than perhaps it should, though not unjustifiably so.
120Hz flagship displays offer a smoother experience than 60Hz panels, and that's an inescapable reality. Even if demanding games would perform perfectly on my Galaxy Note 10, they still wouldn't look as good as they do on newer Galaxy flagships equipped with 120Hz displays. The good news for me is that I'm not much of a mobile gamer. Nevertheless, after testing 120Hz in One UI and regular apps, I'm beginning to feel the limitations of my Galaxy Note 10's 60Hz panel.
Cameras with crazy hybrid zoom capabilities are also more popular now than they were a couple of years ago. The Galaxy Note 10 has it limited at 2x, and so do the Galaxy Z Fold smartphones. But unlike 120Hz, I don't feel like I miss out on these new hybrid zoom optics. You never know — I might change my mind in the future.
And, of course, it would be nice to run Android 12 and One UI 4.0 on my Galaxy Note 10, but it's not available for my phone yet, so I'm beginning to feel left behind by newer flagships that have a higher priority for the update. On the other hand, my Galaxy Note 10 already received two major Android OS updates in the past 24 months. It's technically eligible for Android 12 and One UI 4.0 thanks to Samsung's new 3-update policy, the latter of which seems to make it easier for me to wait for a replacement smartphone after the initial 24 months of owning the Galaxy Note 10 have passed.
Beautiful to the eye, unpleasant to handle
I saved the discussion of design and ergonomics — which are two different, and in this case polarizing qualities — for last because I have a lot to say about the Galaxy Note 10 from this perspective. And because this topic became more important to me as time went by, precisely because of the Galaxy Note 10.
Of course, the following is very much a reflection of my personal experience with the Galaxy Note 10 — perhaps more so than the other points above — and not necessarily a rule that should encapsulate the Galaxy Note 10 for every single user.
First, aesthetics. The Galaxy Note 10 remains one of the more beautiful Samsung phones in recent years. At least in my eyes. The front and back glass panels almost look like they melt over the edges and flow into an incredibly thin metal frame, but at the same time, the phone retains a square footprint thanks to its flat top and bottom edges. These design elements, combined with a subtle camera housing, made the Galaxy Note 10 look both supple and substantial.
The Galaxy Note 10's aesthetics were a factor in my purchase decision, as in, the phone's exterior design and colorful finish made it easier for me to commit to this S Pen flagship for the next two years. But interestingly enough, over time, these aesthetic qualities clashed with the phone's ergonomics in a way that made me change the way I use smartphones.
I was never a fan of wrapping my phone in a protective case, and I still can't say that I am. But using the Galaxy Note 10 for a few months pushed me into a different perspective because I realized it's the most slippery (and, in turn, unwieldy) smartphone I ever used. And although nearly every glass-clad phone is indeed slippery, there's more to it than that.
The Galaxy Note 10's square corners and flat top and bottom edges, combined with the thin, curved, and slippery side metal frame, make using the phone one-handed an exercise in caution. It's often necessary to burry one of the phone's corners into my palm when using it one-handed in a vertical position, or it might slip through my fingers if I loosen my grip for a second.
The Galaxy Note 10 is the only phone I used that could just fly out of my hand when I press the volume buttons one-handed without carefully considering the amount of pressure I apply into my palm and fingers. The volume-up button, especially. It's too high up the left-hand edge, which means I need to loosen my grip and dig the phone's corner out of my palm before I can reach the volume key with my thumb (left hand) or index finger (right hand). And at this point, it almost feels like I'm pinching a slab of ice that's ready to slip.
Beautiful as it is, the Galaxy Note 10 simply didn't offer me enough grip to use comfortably long-term. Not without a case. And unbeknownst to me at checkout, the Galaxy Note 10 became the reason why I now use a protective case. It's a SamMobile case, so that's a perk.
The bottom line is that I never felt the need for a protective case before the Galaxy Note 10 came along, and without one, I'm pretty sure this phone would've been shattered by now. I haven't entirely given up on my "no-case" policy, so after the Galaxy Note 10, comfort and one-hand usability will be at the forefront of my mind more than ever before.
Conclusion, and when will I upgrade to a new flagship?
Aside from the slippery design, I can honestly say that the Galaxy Note 10 has been a fantastic smartphone for more than 24 months and counting. Of course, with the caveats that I don't find much time to play mobile games, and I don't stay away from a charger for too long, on average. I don't regret my purchase, and the Galaxy Note 10 experience is solid enough that I might keep using the phone for a while after One UI 4.0 goes live.
Regarding my next Samsung phone, I might skip the Galaxy S22 Ultra, even though it has an S Pen. I think I'm ready to experience life without it, at least for a while, and see where it goes. I might hate it and look for an S Pen experience, or I might not.
The Galaxy S22 Ultra looks too much like the Galaxy Note 10 in leaked renders, only bigger, which worries me that I'll find it very unwieldy — more so than my Galaxy Note 10.
Perhaps I'll buy the base Galaxy S22 or the Galaxy S22+. Or maybe I'll switch to the Galaxy Z Flip 3 since I'm hearing so many good things about it, or keep rolling with the Galaxy Note 10 until the Galaxy Z Flip 4 goes live later in 2022. I haven't made up my mind yet, but next year will probably be decisive.
What has your experience with the Galaxy Note 10 been like ever since you bought it? Are you planning on keeping it for a while longer? Or have you switched to a different device already? Join us in the comment section below and let us know.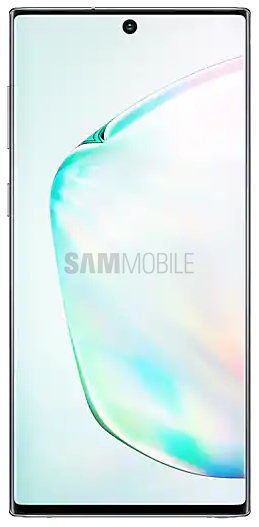 SamsungGalaxy Note 10
Join SamMobile's Telegram group and subscribe to our YouTube channel to get instant news updates and in-depth reviews of Samsung devices. You can also subscribe to get updates from us on Google News and follow us on Twitter.