The Galaxy Watch remains one of Samsung's most-loved smartwatches. The company's decision to follow it up with the Galaxy Watch Active last year took some fans by surprise. It had dropped the physical rotating bezel, arguably one of the best things about the Galaxy Watch.
Samsung then tried to strike a compromise with the Galaxy Watch Active 2. It had a digital rotating bezel but the experience wasn't quite the same. These smartwatches did bring many new and useful features, however, the physical rotating bezel was sorely missed.
So Samsung is finally making amends with the Galaxy Watch 3. This is the true successor to the popular Galaxy Watch. It comes with a true physical rotating bezel, a design refresh and some new features. Is it a worthy successor to the Galaxy Watch and should you buy it? Those are the questions we're going to answer in this Galaxy Watch 3 review.
Galaxy Watch 3 design
Our review is based on the 45mm model and when compared against the 46mm Galaxy Watch, it's 14% thinner, 15% lighter and 8% smaller than its predecessor. That's despite the fact that it has a larger 1.4-inch display. This is perhaps the most non-smartwatch-looking smartwatch that Samsung has ever made, and that's a good thing. There's no need for an outrageous design and Samsung was right to come to terms with it when it shifted to the circular design. It looks like a normal watch but it can obviously do so much more.
The Galaxy Watch 3 nails the understated yet elegant look. It rests very comfortably on the wrist, made possible by the slightly elongated lugs and the slightly slimmer overall profile. The decision to ship the smartwatch with a genuine leather band was likely another decision made in the pursuit of elegance. The Galaxy Watch looked more like a sports watch but the Galaxy Watch 3 wouldn't look out of place with a suit.
To achieve this look, Samsung made changes to the rotating bezel. The hour markings on the top ring have been removed to achieve a smooth surface. The size of the inner ring, which displays seconds in increments of 5, has been reduced as well. I'm pleased to report that it's just as satisfying to use the rotating bezel on the Galaxy Watch 3 as it was on its predecessor. The two physical buttons, spaced out by what you'd call a crown guard on a conventional watch, are round in shape and have a commanding presence. They remind me of the pushers on chronographs and blend in nicely with this smartwatch's design.
Samsung completes this look of understated elegance with a genuine leather strap. It's got faux stitching all along the borders with the buckle matching the watch's color. All models come with a leather strap and that might be a problem for some users. It would be a shame to not use the Galaxy Watch 3's fitness tracking features but I'm afraid the leather strap isn't well suited to a rigorous exercise regimen. You can go swimming with it and go crazy at the gym but while you could abuse the Galaxy Watch Active 2's silicone strap without giving it a second thought, you may have that nagging thought about wrecking the leather strap when sweating profusely.
I know I did, but then again, I'm the sort of person who wouldn't be caught dead wearing a watch with a leather strap on a hot and humid day because the thought of sweating out a pristine strap is overwhelming. Fortunately, it's quite easy to change the straps on the Galaxy Watch 3. Just use any standard 20mm or 22mm strap on the 41mm and 45mm models, respectively.
The 44mm Galaxy Watch Active 2 has been in my rotation ever since I reviewed it last year. I preferred the larger size because of the bigger display and I have a feeling the 45mm Galaxy Watch 3 will be the one that most people go for. At 53.8g without the strap, the Galaxy Watch 3 does feel bulky, though. The 44mm aluminium Galaxy Watch Active 2 only weighs 30g. You'll get used to it in a couple of days and if you're upgrading from the 63g 46mm Galaxy Watch, this will obviously feel much more comfortable.
Galaxy Watch 3 performance
Samsung's smartwatches have been using the same internals for a couple of years now. The Galaxy Watch 3 uses the same Exynos 9110 dual-core processor that you'll find in the Galaxy Watch, Galaxy Watch Active and Galaxy Watch Active 2. It does get 1GB of RAM on the Bluetooth-only model, up from 768MB on these watches. However, the LTE variants of those watches had 1.5GB RAM while the LTE Galaxy Watch 3 has the same 1GB as the Bluetooth model. Samsung has doubled internal storage to 8GB on its latest smartwatch.
It's a bit surprising to see that the LTE variant doesn't get the same amount of memory as existing smartwatches. Perhaps this was done to increase margins on the product or to extend battery life. It's just one of the many surprising decisions that Samsung has made for its fall 2020 product line. The higher internal storage is welcome as it lets us load more apps and music.
If you've been using one of Samsung's recent smartwatches, this will all feel very familiar to you. No major changes have been made to the user interface and the slight bump in memory does make the UX seem more smooth. Unfortunately, Samsung has once again decided to not include MST support for Samsung Pay, so you'll only be able to make payments at NFC terminals.
Some of the shortcomings that we have highlighted time and again still exist. The Bixby experience hasn't been improved and the third-party app situation is still dismal. Samsung had no app partnerships lined up for the Galaxy Watch 3's launch like it had Spotify lined up for the Galaxy Watch Active 2 last year. Spotify works very well on the new smartwatch as well, in case you were wondering. There are some very useful features, though. You can choose to receive a daily briefing in the morning to keep on top of your reminders and schedule for the day or in the evening to check your health stats for the day and other relevant info like the weather forecast.
We really like the improvements Samsung has made to the messaging experience. Image previews in message notifications mean that you don't have to pick up your phone when someone sends you a photo on WhatsApp, you can quickly check it out on your wrist. We particularly like that the Galaxy Watch 3 now shows your chat history instead of just a single message. It used to be a pain to remember what your last message had been, especially if you had been shooting off quick messages to multiple people with your watch. Chat history solves that problem. Smart Reply is a useful addition as well. It suggests appropriate responses for both messages and images.
The Galaxy Watch 3 works with all Android phones running version 5.0 or higher with at least 1.5GB of RAM. It also works with iPhones running iOS version 9.0 and up. You can only get the most out of it when it's paired with a Galaxy smartphone. There will be feature limitations on non-Galaxy and iOS devices especially when it comes to notifications, syncing health data and messaging.
Galaxy Watch 3 display
Our 45mm Galaxy Watch 3 has a 1.4-inch 360×360 pixel resolution Super AMOLED display. This is familiar territory as the panel is no different than what we've seen on the Galaxy Watch Active 2. That means it's exceptional with bright and vibrant colors. The display is easy to read even under direct sunlight. Take our advice and enable Always On Display when you get this smartwatch – it keeps the watch face visible at all times in a low power state. Granted, this does reduce the battery life but it's quite useful. It's not possible to adjust the brightness of the Always On Display, though, so some might find that it's not as bright as they would like.
You can choose to navigate the UI with the rotating bezel or through taps and swipes on the display. It's also possible to use simple gesture controls like clenching and unclenching your fist to answer calls or rotating it to mute alarms or calls. The My Style feature we first saw on the Galaxy Watch Active 2 makes its way to the new smartwatch as well. You can take a photo of your outfit with your phone and the Galaxy Wearable app will run it through an algorithm to create a watch face with matching colors. It's a cool way to match your watch face to your outfit.
Galaxy Watch 3 interface
The interface hasn't been changed substantially. The side-swiping UI feels a lot more intuitive when controlled using the physical rotating bezel. Just swipe right to access your notifications or to the left for the widgets. Swiping down from the top bezel brings up quick settings to easily control features like do not disturb, Bluetooth, Always On Display and airplane mode.
Samsung has jazzed it up with some new watch faces. Some are completely minimalistic while others show specific health and fitness stats. We also like how the watch favors privacy by blurring out the screen once you glance at a notification and then let your arm down, ensuring that nobody else gets a peek at it. For those who want to extend the battery life as much as possible, there's the Watch Only mode that kills every feature so that it can keep the time for as long as possible. Goodnight and Theater modes are present as always. It's good to see that none of the really useful features have been replaced or removed.
Galaxy Watch 3 health and fitness
The Watch 3 can track 40 different workouts in total with automatic detection and tracking for seven including cycling, running and swimming. These workouts are tracked automatically ten minutes after you start, with great accuracy. None of this is new, though, as this functionality has simply been carried over from earlier models. There are plenty of truly new health and fitness features in the Galaxy Watch 3, though.
If you like to run, the Galaxy Watch 3's improved running coach will interest you. It provides helpful tips along the way with reminders to slow down if it senses that you're running too fast and to focus on your breathing when nearing the end of your run. Once you're finished, the Galaxy Watch 3 will give you insight on six advanced metrics that include contact time, asymmetry, flight time, regularity, vertical and stiffness. It's also possible to measure VO2 max, an indication of your maximum oxygen consumption during intense exercise.
With the pandemic forcing most of us to exercise indoors, we really liked the Galaxy Watch 3's home training program. The watch can sync with a Samsung Health Program home workout video and lets you keep an eye on your performance in real-time. The video plays on your Samsung TV and the watch vibrates to let you know when to move to the next exercise. You can also pause the workout from the watch itself when you have to readjust your position. There are more than 120 programs to choose from and the heart rate is displayed on the big screen. At the end of your workout, you get a calorie burn count so that it's easy for you to see if your goal for the day has been met.
Sleep tracking has been improved as well with the Galaxy Watch 3. It now provides you with a sleep score as well as insights in the Samsung Health app to truly understand and improve the quality of your sleep. It's one of the features that we've always liked and are glad to see it receiving such meaningful improvements. Heart rate and stress monitoring are also present.
Samsung tends to introduce some big-ticket health features with its smartwatches and we get a couple with the Galaxy Watch 3 as well. The ability to take an ECG, first introduced with the Galaxy Watch Active 2, is present but is severely limited due to regulatory approvals. The same goes for blood pressure monitoring. We were able to test out blood oxygen saturation and it works as intended.
Fall Detection is also new for the Galaxy Watch 3. If the watch senses that the user has suffered an accidental fall, it can sound an alarm and if you've so configured, send your location to up to four emergency contacts. We hope this is a feature nobody ever has to use, but it's good to know that your Galaxy Watch 3 will be looking out for you just in case.
Galaxy Watch 3 battery life
Our 45mm Galaxy Watch 3 has a 370mAh battery. It's the same as the Galaxy Watch Active 2 but smaller than the Galaxy Watch's 472mAh battery. It's possible to get up to three days of use out of it provided that the watch is being used moderately. For most people who use it for activity tracking, music playback and notifications/messaging, the Galaxy Watch 3 will last two days. That has been our experience with the device and while we wish it lasted longer, this is not a dealbreaker by any means.
Expect the battery to last just about an entire day if you're using the onboard GPS and LTE. Those features obviously require more power but both have their advantages. The LTE variant is capable of making standalone calls and even streaming music via Spotify. The GPS can help you map your runs, for example, but then you'd most likely need to charge the device at the end of the day.
You'll just about get a day's worth of use from the 247mAh battery in the 41mm size. That has been the experience of one of our colleagues who's using the smaller size. As far as charging it up is concerned, you can place it on any Qi-enabled wireless charging pad or use the small magnetic puck that comes in the box.
Galaxy Watch 3 verdict
We must first address the elephant in the room and that is the price. The 45mm Galaxy Watch 3 starts at $429.99, a $130 increase over the $299.99 44mm Galaxy Watch Active 2. Even the 46mm Galaxy Watch cost $349 when it was launched in 2018. The least you can pay for a Galaxy Watch 3 is $399.99 and that's for the Bluetooth-only 41mm model. The most right now is $479.99 for the LTE 45mm. This doesn't include the Titanium model that's going to arrive later this year and will definitely be more expensive.
I wanted to like the Galaxy Watch 3, I really did, but the price is just a bit too much to swallow. The sad thing is that even if you pay Samsung's asking price, you're not going to be able to take advantage of all the features. Blood pressure monitoring and ECG remain unavailable in most markets while select markets don't even get blood oxygen saturation monitoring. There's no saying when these features will arrive. The Galaxy Watch Active 2 still doesn't have ECG outside of South Korea after having been on sale for more than 9 months. Samsung has only just received FDA approval for ECG on the Galaxy Watch 3 in the US but the review units it sent out didn't have the app and it's unclear precisely when it will arrive.
It's also quite possible that some of its new features like the improved running coach, chat history, smart replies, enhanced sleep tracking and sync with Samsung Health Program could come to the Galaxy Watch Active 2 because there's no hardware limitation to prevent it. Samsung might not do this immediately but there's reason to believe it could. Not long after the Galaxy Watch Active 2 was announced, the Galaxy Watch Active received a big update that even added the touch-based digital rotating bezel. So what exactly are you paying the premium for?
Unless it's a conscious choice, it will be hard to justify paying this price for a smartwatch. If you love the design and the rotating bezel in particular, then you won't mind the price. That's really all that you're paying for at this stage with so much functionality unusable right out of the box. We have no problem shouting from the rooftops that this is Samsung's classiest-looking smartwatch yet. It's the "if looks could kill" kind of beautiful and if that's the only reason you want to buy it, it's absolutely going to reward your passion.
If you approach this purchase with some degree of objectivity, you might not consider buying it. If all you need is a robust smartwatch that can be a great fitness companion and looks great too, just buy the Galaxy Watch Active 2 (review). You won't be missing out on much. With the deals that are now available on it, you could possibly bag an LTE 44mm model for the same price you'd pay for a Bluetooth 41mm Galaxy Watch 3.
We do not feel that Samsung is confused about the demographic that it wants to sell the Galaxy Watch 3 to. On the contrary, it has precisely narrowed down the demographic. It's after a subset of customers who make purchase decisions not by prudence but by passion. For everyone else, it offers an excellent alternative in the form of the Galaxy Watch Active 2.
| | |
| --- | --- |
| Pros | Cons |
| Beautiful display, good battery life | A bit too expensive |
| Physical rotating bezel returns with sleek look | No major hardware improvements |
| Nails the look of understated elegance | App support hasn't been expanded |
| Comfortable to wear even when sleeping | Bixby doesn't have a clear purpose |
| Generally accurate in work out and sleep tracking | Several core features (like ECG) not available at launch |
| | |
| | |
| | |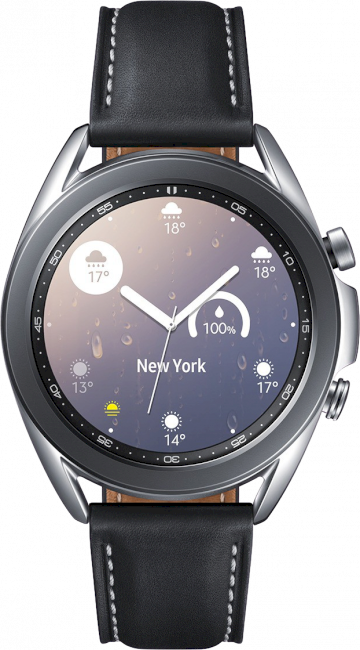 SamsungGalaxy Watch 3 (41mm)
SamsungGalaxy Watch 3 (45mm)