Samsung may be launching one too many phones these days, but new additions to its tablet lineup come at a far slower, yet pretty measured pace. And that's a good thing, because it means that every new Galaxy tablet has a reason to exist and doesn't feel unnecessary, which is something Samsung's smartphones are often guilty of.
The Galaxy Tab Active 3, for example, is great for those who work in "extreme environments" and require a rugged tablet that can withstand the elements. The Galaxy Tab S6 Lite brings the S Pen stylus to a wider audience with its mid-range specs and mid-range pricing, and, naturally, the flagship Galaxy Tab S7 and Tab S7+ offer the best of everything for those with deep pockets.
With the Galaxy Tab A7, Samsung is aiming for those who want an affordable media consumption tablet that can also double up as a device for all those conference calls with colleagues as more and more people work from home. A quad-speaker setup and a big, high-resolution display are the main attractions here, and Samsung has also included a metallic body for a more premium look and feel.
On paper, the Galaxy Tab A7 isn't exactly the most exciting tablet Samsung has launched in recent months, but how is the experience of using it in the real world? Let's find out in this review.
Note: This is a review of the Wi-Fi-only model with 3GB of RAM and 32GB of on-board storage.
Design
The Tab A7 doesn't throw any surprises as far as the design is concerned. Well, other than the fact that it has a metallic back, which isn't something you see on budget tablets, or budget phones for that matter. I'm not sure what I think about the use of metal, however. I think Samsung could have opted for a plastic back and improved a different aspect of the tablet, like the amount of RAM on the base model. Still, if you like a premium feel on your mobile devices, the Tab A7 will not disappoint you and certainly manages to come off as a costlier device than it actually is when you hold it in your hands.
At the front, the display is covered by thick bezels. The front-facing camera is built into the right side of the tablet like it is on the flagship Galaxy Tab S7/S7+, so you will have to hold it in landscape orientation if you want to be in the center of the image when shooting selfies or making video calls. Of course, landscape orientation is actually great for video calls, especially if more than two people are involved in a call, but those who take a lot of selfies might find it frustrating. However, since selfies and photo capture in general is not something tablets are meant for, I guess the front camera placement isn't going to be an issue for most users.
Display
The Galaxy Tab A7 has a 10.4-inch LCD display with a resolution of 2000 by 1200 pixels, and the best thing I can say about it is that it's big and fairly sharp. Unfortunately, the colors are rather muted, the display doesn't get very bright, and viewing angles aren't very wide. The tablet also has an annoying tendency to reduce brightness all the way down to minimum when automatic brightness is enabled, and after a point I simply switched to manual brightness control.
The bezels are quite thick, as mentioned earlier, though that helps with handling as it avoids accidental screen touches. Again, the main highlights here are that the screen is big so you have a lot of real estate for gaming and your Netflix-and-chill sessions, and the pixel density is just right so on-screen text comes out pretty sharp and without any jagged edges, making the tablet a good fit for browsing the internet.
Audio quality
The Tab A7's display may not be very good, but it's an entirely different story with its speakers. The Tab A7 has four speakers, two on either side, and Dolby Atmos support for high-quality stereo sound. The speakers have plenty of punch, get loud enough to fill a medium-sized room, and don't distort at the highest volume. The speakers aren't as good as those on Samsung's flagship tablets and phones, but they are excellent when you consider the Tab A7's pricing. A headphone jack is present as well, though you don't get any in the box (which is standard fare with most of Samsung's tablets). All in all, the audio experience on the Tab A7 is one of its high points and one of the reasons why anyone should pick this tablet up.
Performance
Performance on this tablet is a mixed bag. When navigating the user interface, there's always a hint of lag and the animations are almost never as smooth as they should be. However, once you get down to doing something relatively heavy, like scrolling in Google Chrome or playing Call of Duty, the Tab A7 becomes a lot more capable. At default graphics settings, both Call of Duty and PUBG run well. There are some stutters now and then, but for the most part, the frame rate keeps up even when the action gets hectic.
Of course, the lag and stutter in the user interface can be chalked up to the 3GB of RAM that you get on this tablet, which holds back the Snapdragon 662 chipset that powers it. 3GB RAM is just too low for modern Android devices, especially those with high-resolution screens. That said, if all you want to do is watch videos, browse, and play some games, the Tab A7's performance is more than sufficient.
Software
The Galaxy Tab A7 runs Android 10 with version 2.5 of One UI out of the box. Being a budget device, it offers a bare bones software experience, with almost all popular One UI features missing. That said, it does have some of the useful basics, like the Quick Share sharing feature Samsung introduced with One UI 2.1 and Call & text on other devices, which lets you pick up calls and read and send messages that you get on the phone via the tablet. Naturally, that requires you to use a Galaxy phone, and you will also need to log in to the same Samsung account on both devices for the feature to work.
The Tab A7 does have all the multitasking features that you see on all of Samsung's devices at every price point. You can open two apps side by side at the same time or open an app in a pop-up window. Facial recognition is included as well, making up for the lack of a fingerprint sensor. As for software updates, Samsung will be sending out security updates every three months. It's unclear how many major Android and One UI updates will come to the Tab A7, though you can expect at least Android 11 and One UI 3.0 sometime next year.
Cameras
Since this is a tablet we're talking about, I left the camera section for last. I'll keep it short: The cameras on the Tab A7 are as basic as they can get because of the low price tag. Both the 8MP rear and 5MP front shooters take passable photos and videos, and video call quality is also just good enough that you won't find yourself complaining. The camera app has minimal functionality as well – there's a basic Pro mode along with hyperlapse, Live Focus (bokeh), and panorama modes. Video recording resolution goes up to Full HD at 30 frames per second on both cameras.
Battery life
The 7,040 mAh battery capacity of the Tab A7 is similar to many of Samsung's other mid-range tablets, including the Galaxy Tab S5e and the Galaxy Tab S6 Lite. With a mix of YouTube, Netflix, some gaming, and browsing, it can last for around 10-12 hours before you have to reach for the charger, depending on how bright the screen is. That's pretty good for a tablet with a 10.4-inch display, and battery life is easily one of its strong suits next to the excellent speakers.
The Tab A7 supports 15W fast charging, but it comes with a standard charger in the box. And if you want to fast charge it, you have to use Samsung's official 15W fast charger. I tried both my 25W and 45W Samsung chargers and the fast charging USB port on my PC motherboard, and they all failed to fast charge the Tab A7, even though they work well with other Galaxy devices. You may want to keep this in mind when shopping for a fast charger – be sure to get Samsung's old adaptive fast charger, like this one on Amazon.
Verdict
If you're looking for a tablet for watching videos, gaming, and browsing and want something on the cheap, then the Tab A7 fits the bill perfectly. It has mediocre display quality, performance while moving through the user interface is lacking (mainly because of the low RAM), and the software experience is basic. But the display is big and you get excellent sound through the four speakers, performance while gaming or browsing is fine, and the battery lasts long, which is everything you would need in a tablet meant for content consumption on a budget.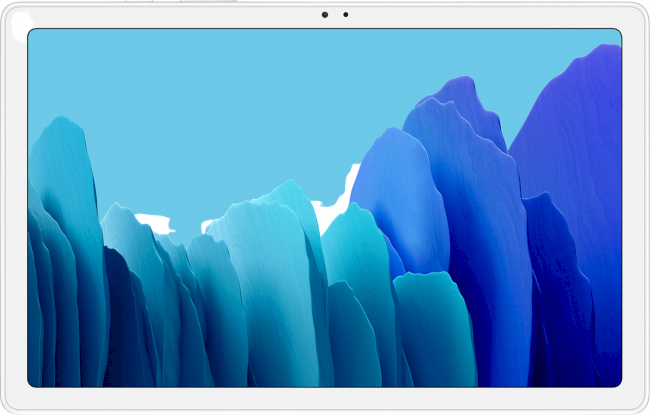 SamsungGalaxy Tab A7