Hot on the heels of the Galaxy A52s 5G, which easily won the crown of Samsung's best mid-range phone, the Galaxy M52 5G is here to offer some of the best A52s features at a lower price. The Galaxy M52 5G is the first M-series phone with a 120Hz refresh rate screen, and the other star attraction here is the Snapdragon 778G processor, which is currently among the most powerful mid-range chips out there.
The Galaxy M52 5G is also quite slim with a thickness of just 7.4 mm. While Samsung has still been able to fit in a 5,000 mAh battery in there, the slim profile comes at the expense of the headphone jack. The M52 5G isn't the first M-series phone without a headphone jack, and it probably won't be the last. If you must have a 3.5mm port on your phone, the M52 5G isn't for you.
If not, then the Galaxy M52 5G has a lot to offer, and this review will tell you exactly what that is, so let's get started.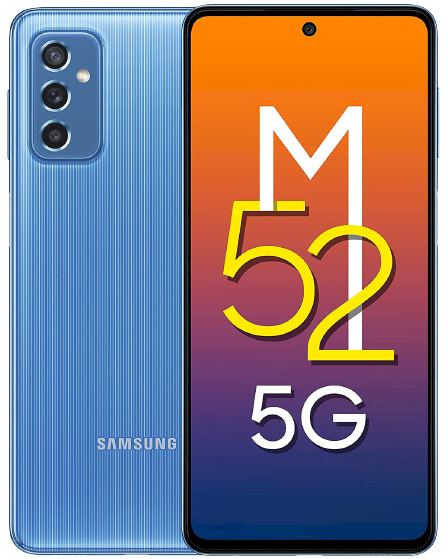 SamsungGalaxy M52 5G
Design
Thanks to that super slim 7.4mm body, the Galaxy M52 5G feels great in the hand. Galaxy M smartphones usually look and feel like budget devices no matter how good their specs might be, but that's not the case here. There's still plastic on the back and sides so you don't get the premium feel of glass and metal, but I wouldn't knock any points for that.
I do have one problem with the device: It's so thin and relatively light (it weighs 173 grams) that it's rather hard to take stable blur-free pictures with the camera unless you hold the phone tightly using two hands. Having optical image stabilization on the main camera would have alleviated this issue, but alas, Samsung hasn't brought over that feature from the Galaxy A52s/A52.
Then there's the whole thing about this phone not having a 3.5mm headphone jack. I personally don't feel that's an issue as I've moved to using wireless earbuds exclusively on my phones, but as mentioned earlier, if you want to use traditional wired audio gear with the M52 5G, it's not the phone for you, despite all the good stuff it has to offer.
Display
The Galaxy M52 5G comes with a 6.7-inch Super AMOLED Plus display with a 120Hz refresh rate. As you would expect, it's an excellent display, giving you all the nice traits of AMOLED technology, such as vivid colors, deep blacks, and problem-free viewing in bright daylight. And thanks to the high refresh rate, you enjoy smooth animations and scrolling that's pretty much on par with what you get on Samsung's flagship phones. That's mainly thanks to the Snapdragon 778G processor, which has dollops of power to handle the higher refresh rate.
It's also good to see that Samsung has kept the bezels around the screen as small as it possibly could without getting into flagship territory. However, the camera punch hole could have been smaller. The camera sensor itself isn't huge, but the black border encircling it is a little too thick. It's not a deal-breaker by any stretch of the imagination, though.
Cameras
The camera setup on the Galaxy M52 5G is a familiar one, but there's one difference: You don't get a depth-sensing camera at the back. There's just a 64MP main camera, a 12MP ultra-wide camera, and a 5MP macro camera at the back, while the front holds a 32MP camera for selfies and video calls.
Photo quality also brings no surprises compared to other Galaxy phones with such a camera setup. The main camera does a great job outdoors during the day, with plenty of detail, good dynamic range, and mostly accurate color reproduction. It's good at night, too, but does lose out on fine detail and introduces some noise, though the latter is fixable by using the dedicated Night mode.
The 64MP camera's also good at bokeh pictures despite lacking a depth sensor to help it along (the last four pics in the gallery above are bokeh shots). Unfortunately, as I mentioned earlier, this phone is prone to taking slightly blurry pictures unless you hold it really still. Thankfully, stabilization in videos is less of an issue, though video quality isn't the best and you also don't get the option to shoot at 60 frames per second in 4K resolution.
The 12MP ultra-wide does an adequate job. Daylight results are pleasing, but low-light ones are full of noise and lack detail. The macro camera, meanwhile, continues to be second-rate in all conditions, just like on other Galaxy phones with dedicated macro cameras. The resolution is too low to capture good detail, it's hard to tell when the subject is in focus, and keeping the phone still enough to avoid blur is an exercise in frustration.
Here go some macro pictures:
As for selfies, the 32MP camera gives you sharp — a little too sharp, even — and well exposed pictures during the day. Nighttime selfies aren't bad, either, just as long as there's sufficient artificial lighting around. For extreme low-light selfies, the screen flash becomes necessary. You won't find much detail in those, but that's true for pretty much every mid-range phone out there.
Like the Galaxy A52, the Galaxy M52 5G is packed with a ton of useful camera modes. You get Pro mode for both videos and stills with the option to control shutter speed, and there's also Fun mode, which puts Snapchat filters right into Samsung's camera apps. Most won't really use this mode all that much, but it's fun (hence the name) and works well.
Check out some selfie and Fun mode samples below.
Performance
Let's talk about the most important aspect of the Galaxy M52 5G: the blazing fast performance. Yes, that's right. With the Snapdragon 778G processor under the hood, the M52 5G, in addition to the A52s 5G, is the fastest mid-range phone from Samsung.
The animations are smooth, apps open quickly, there's next to no lag when switching between apps, and all kinds of games run without hiccups. And despite the thin design, at no point did the M52 5G get unbearably or even uncomfortably hot. It's virtually flagship-grade performance for all intents and purposes, and the M52 5G can handle anything you throw at it and keep its cool at all times.
Thanks to the Snapdragon 778G, the Galaxy M52 5G also supports Wi-Fi 6. However, the Speed Test app could never achieve the same download and upload speeds on this phone as it does on Samsung's flagship phones, so I can only assume that the Wi-Fi chip isn't running at full steam. Still, the addition of Wi-Fi 6 support to more and more Galaxy devices is quite welcome.
Software
The Galaxy M52 5G runs Android 11 with One UI 3.1 out of the box, and the software package is identical to what you get on the Galaxy A52, so I'd recommend checking our A52 review for more details. Want the short version? Well, the M52 5G gives most of the features Samsung phones are known for. There's no DeX, which is a flagship feature, but stuff like Samsung Pay (NFC-only), built-in screen recorder, Always On Display, Dual Messenger, Secure Folder, and more are all there.
However, despite the higher-end nature of the M52 5G, Samsung isn't promising it will get three major OS upgrades. That puts it a step below the Galaxy A52 or Galaxy A52s 5G as far as software support longevity is concerned, but I'd say getting just two major OS upgrades would be good enough given the aggressive pricing of the phone.
Battery life
The Galaxy M52 5G is not only fast, it's also got amazing battery life. There's no 6,000 mAh or 7,000 mAh battery here unlike other Galaxy M smartphones, but don't let that fool you into thinking you're losing anything in the real world.
The M52 5G can last you all day long with even heavy use, and a day and a half with a mix of heavy and light use. That's on 120Hz refresh rate, mind you. Turning it off could extend battery life even further, but it isn't something I tested because, frankly, there's no reason to. The M52 has fantastic battery life considering all the power under its hood.
Charging is quick, too, thanks to 25W support. You get a 15W charger in the box, though, which can take a little over two hours to get the phone up to 100%. With a 25W charger you're looking at around an hour and 20 minutes for a full charge. A 30-minute charge brings the battery up to around 45%.
Call, audio quality
The Galaxy M52 5G throws no surprises when it comes to call quality. There are no network reception issues, and both parties in a call could hear each other clearly. There's 11-band 5G support as well, but I couldn't test it as 5G networks are still a couple of years away here in India.
Audio quality over the speaker is similar to what you get on other Galaxy phones without a stereo setup, which is to say it's nothing to write home about and you'd be better off using earphones or wireless earbuds. I'm a little disappointed Samsung didn't equip the M52 5G with stereo speakers like the Galaxy A52, but it's another thing I can't be too negative about given the aggressive pricing of the phone.
Verdict
The Galaxy M52 5G is a great choice if you're looking for a phone with top-notch performance, a beautiful high refresh rate display, 5G support, and great battery life (with super fast charging once you buy a super fast charger) without digging too deep of a hole in your pocket. On top of all that, the M52 5G also gives you a mostly complete One UI software experience, which is pretty much the best in the business.
However, if you're looking for a more well-rounded mid-range phone and can do without 5G connectivity, the Galaxy A52 is a better choice – if you can find it in stock. Its performance is more than enough for most tasks (including most games), it's got a great display even though it works at 90Hz instead of 120Hz, you get stereo speakers, its design is water and dust resistant to give you extra peace of mind, and you get the guarantee of three major OS upgrades.