Similar to how Samsung's Galaxy S series got an Ultra model a few years ago, the Galaxy Watch lineup now includes the first-ever Pro variant, i.e., the Galaxy Watch 5 Pro. And like the Galaxy Ultra smartphones, the Watch 5 Pro is supposed to represent the pinnacle of Samsung's wrist wearables.
How different is the Galaxy Watch 5 Pro from Samsung's other smartwatches? And is the Pro moniker justified? We'll explore these questions more thoroughly in our upcoming reviews, but for now, let's have a quick look at the new Galaxy Watch 5 series in our hands-on video below.
Galaxy Watch 5 series quick comparison
We spent some time with Samsung's new smartwatches unveiled at Unpacked today and briefly compared the standard and Pro models. We can say that the Watch 5 looks similar to the Galaxy Watch 4 but brings a few worthwhile hardware upgrades over the 2021 model. Meanwhile, the Galaxy Watch 5 Pro looks and feels like a new take on Samsung's smartwatch formula, at the sacrifice of the rotating bezel that defines the Classic models.
The Galaxy Watch 5 and Galaxy Watch 5 Pro have the same chipset and memory configuration. Nevertheless, the Watch 5 Pro boasts a titanium case, up to 80 hours of battery life on a single charge, and has three exclusive Samsung Health features that may or may not be coming to the standard Watch 5 through a later firmware update.
We'll probably miss the rotating physical bezel specific to the Galaxy Watch Classic series for a while, assuming that Samsung won't bring it back with a future smartwatch model. But for a first impression, the Galaxy Watch 5 seems like a decent upgrade over the Watch 4. And the first Pro smartwatch might offer just enough advantages to make us forget about the rotating bezel's absence.
Check out our Galaxy Watch 5 quick hands-on video below for a closer look at the new smartwatches and stay tuned for more from Unpacked.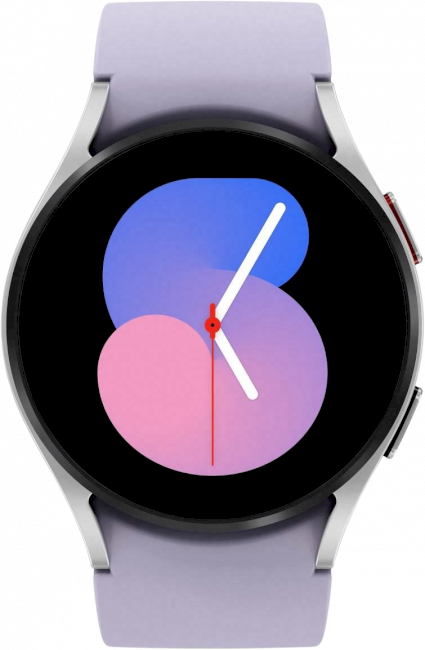 SamsungGalaxy Watch 5
SamsungGalaxy Watch 5 Pro