The Galaxy S20 FE (Fan Edition) was a major success for Samsung, thanks to an aggressive price tag for hardware that was pretty close to the flagship Galaxy S20 lineup launched in early 2020. When rumors of a Fan Edition of the Galaxy Tab S7 first arrived, everyone expected the tablet to follow in the S20 FE's footsteps by offering flagship-level features at a not-so-flagship-level price.
That didn't turn out to be the case. Where the Galaxy S20 FE shares almost all of its specs with the Galaxy S20 and Galaxy S20+, the Galaxy Tab S7 FE is a full on mid-range tablet that only shares some of its hardware with the Galaxy Tab S7 and Galaxy Tab S7+. The only highlights here are the massive 12.4-inch display, equally massive 10,090 mAh battery with 45W charging, S Pen support, and the latest One UI software packed with excellent features like on-device DeX mode.
The price isn't very aggressive, either, and it made us skeptical of the Tab S7 FE when it went official back in May this year. But has using the tablet changed our opinion, and do we recommend buying one?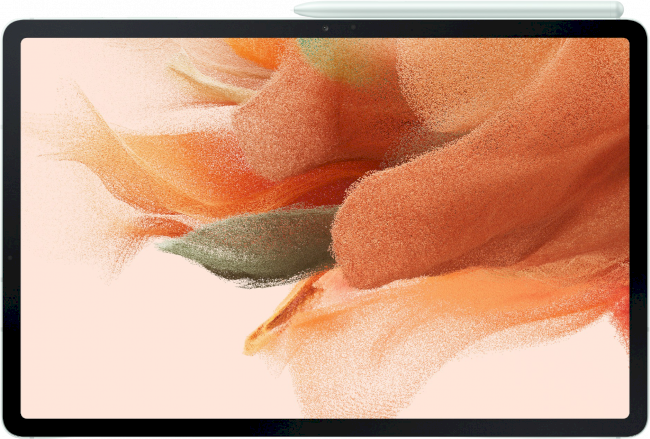 SamsungGalaxy Tab S7 FE
Design
You would be forgiven for confusing the Galaxy Tab S7 FE with the Tab S7+ at first glance, because these two tablets are similar in a lot of ways. The front side is taken up by the huge 12.4-inch display, and the sides and back of the tablet are metallic, giving it a premium feel. Naturally, with that big screen, this thing requires two hands for comfortable use, though it's not as heavy as you would expect.
One important change in design compared to the Galaxy Tab S7 and Tab S7+ is the lack of any magnetic strip on the back of the tablet for the S Pen to latch on to for charging. Not that charging is needed here, as the S Pen included with the Tab S7 FE is a standard stylus with no Bluetooth or gesture functionality. The Tab S7 FE also lacks a fingerprint sensor, leaving facial recognition and your traditional pin and pattern as the only methods of securing the device.
The Galaxy Tab S7 FE supports Samsung's keyboard cover and comes with a keyboard cover made exclusively for it – it's the same keyboard that you get with the Galaxy Tab S7 and S7+ but lacks a trackpad. However, Samsung tells us the Tab S7+ keyboard cover works with the Tab S7 FE, and since the latter doesn't come with the keyboard accessory in the box, you can always just buy the one with the trackpad.
Display
You would expect a Galaxy device that's "made for fans" to feature, at the very least, an AMOLED display. Samsung, however, doesn't think that's necessary and has equipped the Tab S7 FE with an LCD panel, and one without a high refresh rate. As you would expect, the viewing experience is notably inferior as a result.
The display's not bad: You'll enjoy doing everything from watching movies to playing games on it, mainly because of the 12.4 inches of screen estate. The screen's quite sharp thanks to the QHD resolution, the colors are pretty punchy for an LCD panel, and it gets sufficiently bright. If you have never seen Samsung's tablet AMOLED displays in action, you'll likely have no complaints.
But it's still disappointing that you're not getting an AMOLED screen. Even more disappointing is the lack of a high refresh rate panel. Many Galaxy phones now offer 90Hz displays at crazy affordable prices, so there's no reason the Galaxy Tab S7 FE doesn't, other than Samsung wanting to cut as many corners as possible.
Audio quality
The Galaxy Tab S7 FE gets two speakers instead of four, but these are excellent speakers that won't disappoint you. They get really loud and easily fill a medium-sized room. I even forgot I wasn't watching a TV show on my PC speakers at one time, that's how loud these can get. There's enough punch in the low frequencies (bass), though the higher frequencies can sometimes distort depending on the audio source. Dolby Atmos is supported, as with every other phone or tablet Samsung launches in the last few years, and it enhances stereo separation and also somewhat increases the overall volume.
S Pen
The Tab S7 FE has a standard S Pen, meaning there's no Bluetooth connectivity for remotely controlling apps and functions nor any air gestures. And, because the screen works at a standard 60Hz, the S Pen doesn't benefit from a low latency and, therefore, doesn't provide the pen-to-paper feel that you get on the Tab S7 and Tab S7+.
Of course, that doesn't mean the S Pen isn't useful. You're still getting the best stylus package in the industry when you consider all the software features at your disposal, including Samsung's excellent Samsung Notes app. You also get third-party apps like Clip Studio, Canva, and Noteshelf pre-installed for an enhanced drawing and writing experience.
Naturally, the S Pen is also great for just generally navigating through the user interface. In fact, given how big the screen is, most users will find using the S Pen at all times more comfortable, especially if they have the tablet docked in the keyboard cover.
Book Cover Keyboard
Samsung's selling a case-cum-keyboard accessory with the Galaxy Tab S7 FE. It's called Book Cover Keyboard, same as the one for the flagship Tab S7 and S7+, but, as mentioned earlier, this one lacks a trackpad. That means it's a little more awkward to use and doesn't offer a proper laptop-like experience. For that, you need to buy the Book Cover Keyboard that Samsung sells for the S7+, which works with the FE model.
The missing trackpad aside, it's a pretty nice keyboard. The keys have sufficient travel and are spaced well enough for accidental presses to be a non-issue. Of course, typing is my bread and butter and that makes it easier for me to adjust to any keyboard, but anyone with a decent amount of typing experience will have no trouble with the Galaxy Tab S7 FE's Book Cover Keyboard.
The keyboard includes plenty of shortcuts, including one for taking screenshots and another for switching to DeX mode (and back). However, this thing costs the same as the Tab S7+'s keyboard cover, so I'd recommend buying that one instead so you have access to a trackpad as well.
Software, DeX experience
The software experience on the Galaxy Tab S7 FE is perhaps the only thing that's carried over completely unchanged from the flagship Tab S7 and Tab S7+. From Multi-Active Window (running three apps side by side) to on-tablet DeX mode, it's all here (how it all performs is another matter, as discussed below). The Tab S7 FE runs Android 11 with One UI 3.1 out of the box, and it's likely to be eligible for three major OS updates down the line.
For more details on the Galaxy Tab S7 FE's software and DeX experience, check out our Galaxy Tab S7+ review.
Performance
One of the biggest downgrades on the Galaxy Tab S7 FE is no doubt the Snapdragon 750G processor, which replaces the Snapdragon 865+ that powers the Tab S7 and Tab S7+. Worse still, the base variant, which is the one we tested, has just 4GB of RAM. This is a tablet which boasts of features like Samsung's DeX mode and the ability to multitask with three apps running on-screen at the same time, mind, so I had low expectations for its performance going in.
And the Tab S7 FE proved me right. This tablet does great when you're just navigating the user interface, running single apps on the tablet, or using the S Pen to draw or write something. But try running even two apps side by side and things deteriorate. It's worse with three apps running at the same time, and the limited memory almost always makes those three apps reload if you go to the home screen and then reopen those apps in split-screen view from the recent apps screen.
Gaming performance was good enough, but with the Snapdragon 750G having to push a high-resolution display, you will run into some stutters here and there in games like Call of Duty. All in all, the Galaxy Tab S7 FE isn't slow by any stretch of the imagination, but it's not the fastest tablet out there, and that's a shame considering how much it costs.
Battery life
I was expecting the 10,090 mAh battery inside the Galaxy Tab S7 FE to be a solid performer, and it was, but only with light use or when you're only binge watching your favorite TV show all day long. It did get through a day with heavy use that involved a few hours of gaming, watching videos on YouTube, and browsing the internet (including writing a couple of articles), but I had to charge it by the end of the day.
A little surprising, that, but like I said before, it does fine with light use or if you're only watching videos on it all day long. Left idle, it can last for days on end, while watching a 3-hour movie on Netflix with medium display brightness drained around 18% battery. That somewhat exceeds what Samsung claims, which is up to 13 hours of video on a single charge.
Unfortunately, charging is an excruciatingly slow affair if you use the bundled 15W charger, which takes upwards of three hours to reach a full charge. A 25W charger takes a little under two hours while Samsung's 45W charger takes around 1.5 hours, and investing in either of those would be a good idea.
Cameras
The Tab S7 FE's 8MP rear and 5MP front cameras are as basic as they come. They're good for the occasional emergency snap when you don't have your phone at hand and for video calls, but that's about it. Tablets are never meant to offer amazing cameras, and the Tab S7 FE does nothing to change that trend.
Verdict
The Samsung Galaxy Tab S7 FE is a good tablet, just not good enough to be given the Fan Edition label. You're getting a massive screen with impressive sound quality, the best tablet software package on Android, excellent battery life, and the S Pen experience. If any of that sounds interesting to you, go ahead and buy the Galaxy Tab S7 FE.
If you're looking for a flagship-grade tablet at a relatively affordable price tag, you're not going to find it here. You might as well save up and get the Galaxy Tab S7 (if you can find it in stock) instead – it's got a 11-inch display that's also not AMOLED and has a smaller battery, but everything else is miles better than what you're getting on the Tab S7 FE.