The Galaxy A54 5G is the latest premier mid-range smartphone from Samsung, coming in less than two months after the Galaxy S23 series. It has a number of upgrades over the Galaxy A53, and an even higher number of upgrades over the Galaxy A52 and older Galaxy A5x devices.
From the Exynos 1380 processor (said to have up to 20% more performance than the Exynos 1280) to the glass back, there are quite a few impressive things about the Galaxy A54 5G, but overally, you're not really look at any huge upgrades, at least if you're thinking of a jump from last year's Galaxy A53 5G.
In fact, except for newer software and longer support, the Galaxy A54 5G is not really necessary for Galaxy A52, A52 5G, or A52s 5G owners, either. It's better to look at this phone as Samsung's best mid-range offering for 2023 that everyone in the market for a new phone, wants more major OS upgrades, or is considering switching from a Galaxy A50 or Galaxy A51.
Galaxy A54 5G hands-on: Glass sandwich design with Gorilla Glass 5
The Galaxy A54 5G is different, though, which is something you feel as soon as you take the phone in your hands. Samsung has put Gorilla Glass 5 on the front and back of the A54 5G while older devices uses plastic (and the really old ones had a metallic back), and the individual camera rings have silver edges to bring the design in line with Samsung's 2023 flagships.
And the result is a phone that instantly feels premium out of the box. However, the A54 5G is also a rather slippery phone, which is what you get when you ask for a glass back, which many Samsung fans have been doing for a long time as far as the company's mid-range smartphones are concerned.
Well, mission accomplished I say: the Galaxy A54 5G can go toe-to-toe with the competition in terms of the premium feel, but you will need to be careful when handling it or put a case on it (I've already ordered one that will hopefully arrive before I drop the phone).
The Galaxy A54 5G also feels different when you've set everything up and start using it. It feels notably smoother than the A53 5G did at launch, for one. I saw some stutters here and there, but a couple of updates, especially the big ones (of which there will be four), should fix that.
There don't seem to be any Galaxy S23-like software optimizations
If you think there would be software optimizations here similar to the Galaxy S23 series, I wouldn't get too confident as I haven't seen anything special in the few hours I've been using it (for those wondering, no, the phone was not setting things up in the background when I checked its general performance; I even restarted the phone after transferring data from my previous device before I got down to using it).
But, again, we can expect software updates to iron out the performance kinks. Another point on performance: I haven't had the phone for long so I haven't gamed on it (the Exynos 1380's GPU is said to be on par with the Adreno GPU in the Snapdragon 778G on the A52s 5G), so I'd suggest waiting for my upcoming review.
I will be putting the phone through its paces over the next few days to see exactly what you can expect from it. Everything from the cameras to the battery life (Samsung says the A54 5G can go more than two days on a single charge based on how much you use it) is a detail I can't really go into right now; this is just a hands-on based on a short period of use.
Again, as mentioned earlier, the Galaxy A54 5G does feel different compared to its predecessors, partly because of the flagship-type build enabled by the glass on the back. Whether or not its spec sheet and the real-world user experience justify the price tag, well, our review will reveal everything, so stay tuned!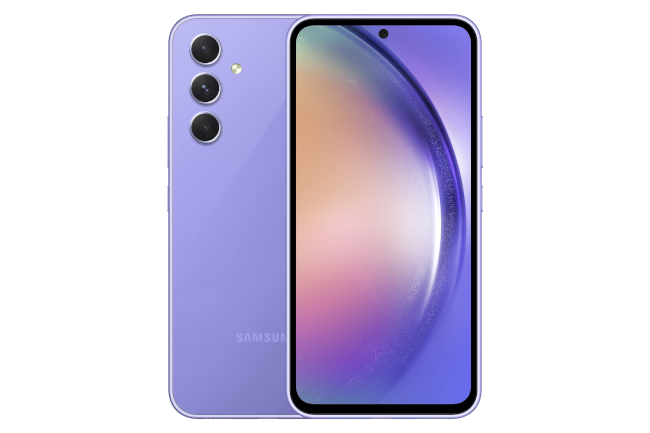 SamsungGalaxy A54 5G