The Galaxy Note 10 and Note 10+ have amazing displays with the same kind of impressive qualities that we saw on the Galaxy S10 lineup, but they are notably different in one regard. The Note 10 and Note 10+ have their front cameras placed in the center of the screen, instead of the right corner as they were on the Galaxy S10 trio. And as Samsung has just revealed, the camera punch holes on the Note 10 duo are also smaller in diameter compared to the holes on the S10 lineup.
The diameter of the camera cutouts on the Galaxy Note 10 and Note 10+ is 4.4pi and 4.5pi respectively, while the Galaxy S10 lineup had a 5.2pi camera cutout. And the difference is noticeable in real life, as we can confirm by looking at our Galaxy S10 and Galaxy Note 10+ side by side. While the camera sensor itself has the same diameter on both flagships, Samsung has managed to shave off the black patch that surrounds the front-facing camera, resulting in visibly reduced camera cutouts.
Smaller bezels, higher screen-to-body ratios on the Note 10 and Note 10+
And although Samsung doesn't say anything about the screen-to-body ratios, we can confirm that the Note 10 and Note 10+ have a screen-to-body ratio of 90.5% and 90.7% respectively. The Galaxy S10 and S10+, meanwhile, had screen-to-body ratios of 88.2% and 88.4%. As for the bezel sizes, the Note 10 and Note 10+ have 1.5mm, 2.8mm, and 1.1mm bezels above, below, and at the side, whereas the S10 and S10+ had 2.3mm, 3.7mm, and 1.2mm bezels. The Galaxy S10e isn't a match for any of these, as it has fairly large bezels above and below the screen – 6.9mm and 5.6mm to be exact.
All of the improvements make the Galaxy Note 10 and Galaxy Note 10+ two of the most compact phones for their screen sizes. And their displays have more to offer, as Samsung details in the infographic you see below. Again, much of this was already seen on the Galaxy S10 lineup, like TUV RheinLand certification for lower blue light without sacrificing image quality, and the Note 10 and Note 10+ also manage to offer larger screen estate without a substantial bump in overall dimensions.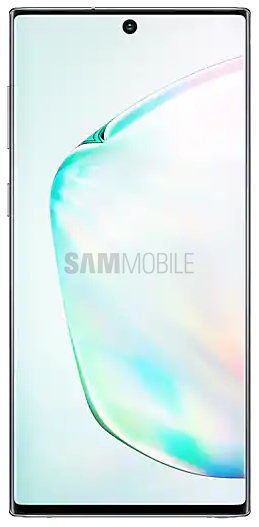 SamsungGalaxy Note 10