Samsung has just unveiled two new Galaxy A series phones in China. Well, one of them – the Galaxy A6s – is new while the other is a renamed Galaxy A9 (2018). The Galaxy A6s is Samsung's first ODM phone, which means Samsung will not be manufacturing it in its own factories. That is probably why the Galaxy A6s is rather cheap despite specs that include a Snapdragon 660 SoC, 6GB of RAM, and dual rear cameras. Cheap for a Samsung phone, that is, something that should help the company in the competitive Chinese market.
Galaxy A6s is not too pricey and not half bad on specs, either
The dual rear cameras aren't as high on megapixel count as devices like the Galaxy A8 Star, though. The Galaxy A6s has two 12-megapixel cameras on the back, but unlike the flagships, neither of the two is a telephoto lens. The second camera is only for Live Focus bokeh pictures; both cameras have f/1.8 aperture. The front camera is apparently a 24MP sensor, but that's somewhat unclear at the moment. Other Galaxy A6s specs include a 6-inch Super AMOLED Full HD+ Infinity display, 64GB and 128GB storage options, a rear-mounted fingerprint sensor, and a 3,300 mAh battery.
The Galaxy A9s only gets a name change for China, as expected. It has four rear cameras – a 24MP primary sensor, an ultra-wide 8MP lens, a 10MP telephoto lens for 2x zoom, and a 5MP depth sensor for Live Focus shots. There's a 24-megapixel camera at the front for selfies. Other specs include a 6.3-inch Super AMOLED Infinity display, Snapdragon 660 octa-core chipset, 6GB RAM, 128GB of expandable storage (512GB cards supported), and a 3,800 mAh battery with fast charging.
Galaxy A9s, Galaxy A6s pricing and release date
The Galaxy A9s and Galaxy A6s are up for pre-order on major online retailers in the country. Prices start at ¥1799 ($260) and ¥3499 for the A6s (6GB+64GB) and A9s (6GB+128GB respectively. The 6GB+128GB version of the Galaxy A6s is ¥2199 (roughly $320). The A9s comes in Caviar Black, Lemonade Blue, and Bubblegum Pink, colors that are rather beautiful to look at thanks to the gradient touch. The Galaxy A6s comes in a pretty Koi Red flavor along with Salang Black, Flower Blue and a purple version. Strangely, the A6s is the same color on the front and back, so its Infinity display may not be that immersive on the non-black color options.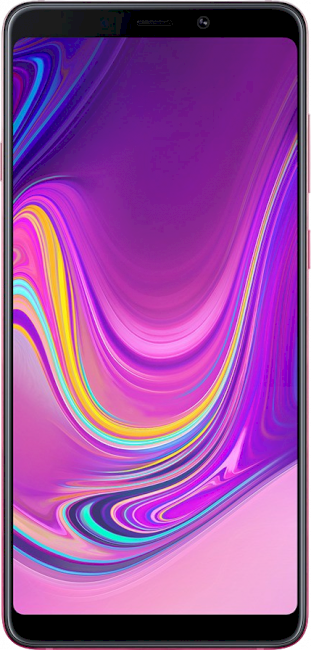 SamsungGalaxy A9 2018