Routers that support Wi-Fi 6 have penetrated the market more and more since the Wi-Fi 6 standard was first revealed, and you can also easily buy routers that support the even more modern Wi-Fi 6E standard, which adds a new 6GHz channel in addition to the 2.4GHz and 5GHz channels that were common before Wi-Fi 6E came into the picture.
However, while Samsung flagships have had Wi-Fi 6 connectivity since the Galaxy S10, not many of its mid-range devices support it yet. Samsung hasn't been standing completely still, though. This year, the company has added a new device to the list of Wi-Fi 6-enabled mid-range Galaxy smartphones: the Galaxy A54 5G.
Galaxy A54 5G supports Wi-Fi 6 (not Wi-Fi 6E) thanks to the Exynos 1380
The Galaxy A54 5G is powered by the new Exynos 1380 chipset, which is Samsung's first mid-range Exynos chip that supports Wi-Fi 6, so the A54 5G does as well. And that's great, because Wi-Fi 6 has many advantages. It has higher download and upload speeds, works on both 2.4GHz and 5GHz bands, and more importantly, Wi-Fi 6 routers can support more devices than Wi-Fi 5 routers without slowing down.
Speaking of routers, you will naturally need to make sure your router supports Wi-Fi 6/6E (the A54 5G only supports Wi-Fi 6, but if available in your country, a Wi-Fi 6E router is a better choice if you want to be future-ready). You can check out your router's product page for that, or if you have a modern Galaxy smartphone with Wi-Fi 6/6E support, just see if there's the number '6' written next to the Wi-Fi icon in the status bar for confirmation.
If you have an excellent Wi-Fi 5 router that covers all your needs, upgrading to a Wi-Fi 6/6E router isn't exactly necessary. But if you ever do make the switch, you should be able to take full advantage just as long as you have the right Samsung device, like the new Galaxy A54 5G or one of the many other Galaxy devices that support the latest Wi-Fi standard(s).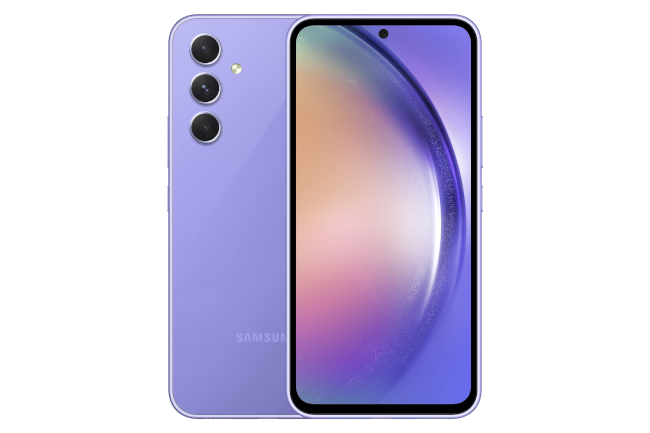 SamsungGalaxy A54 5G