The Galaxy A54 5G blurs the line between the low-cost and high-end markets better than its predecessors ever could. Samsung gave this new device a handful of features that have so far been exclusive to the high-end market, including improved camera capabilities, a fresh look that resembles the Galaxy S23, and even a full glass build with Gorilla Glass at the front and back. But apparently, the Galaxy A54 has even more surprises in its bag of tricks.
Samsung's new mid-range phone supposedly boasts improved haptic feedback. According to a render by AAC Technologies (via TechGoing), the Galaxy A54 uses an X-axis haptic feedback motor, which can generate higher fidelity vibrations than the previous solution.
Galaxy A54 haptic technology is similar to the Galaxy S22
The first time Samsung used an X-axis linear motor for haptic feedback was last year when it released the Galaxy S22 smartphone series. This level of hardware is usually reserved for costlier phones, but the Galaxy A54 appears to be making an exception.
When paired with fine-tuned software, X-axis linear motors can give the illusion of physical buttons and sliders when the user taps on or drags UI elements on a touchscreen. They help alleviate the feeling of disconnect when using touchscreens and provide more detailed tactile feedback where there are no physical buttons or sliders.
Now, back to the Galaxy A54, apparently and for the first time in the history of the Galaxy A series, the 2023 model has an X-axis feedback motor, which should enable a more immersive experience.
Oddly though, Samsung hasn't said anything about this hardware upgrade on March 15, and it's unclear why. At best, Samsung forgot. At worst, the software isn't quite ready to take full advantage of the hardware, or maybe the X-axis motor employed by the Galaxy A54 isn't as good as it is on the Galaxy S22 and, therefore, not worth touting.
In our limited time testing the Galaxy A54 5G, we haven't noticed a difference to warrant a mention in our hands-on article. But we'll try updating you on the matter in our forthcoming (and more detailed) Galaxy A54 review.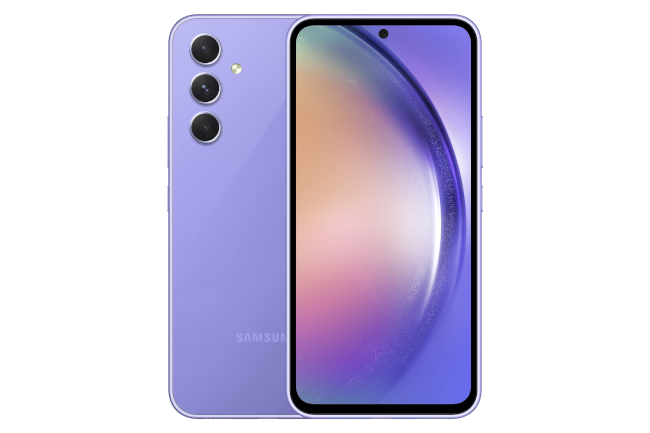 SamsungGalaxy A54 5G