Rumors about Samsung wanting to switch to Google's Android-based operating system for smartwatches have been floating around since 2018 but, it's 2021, and Samsung has finally decided to abandon its in-house-developed smartwatch platform in favor Google's Wear OS.
Well, the official narrative around this massive change is that Samsung isn't abandoning Tizen OS outright, but that the platform (or the spirit of Tizen) is merging with Google's Wear OS later this year in anticipation of the Galaxy Watch 4 and Galaxy Watch Active 4 release.
While hardcore Tizen OS enthusiasts might be disappointed by this initiative, it actually sounds like there is a lot of potential for greatness here. Samsung hasn't just sold out to Google by abandoning its own platform, but rather, the Korean tech giant is lending its expertise to Google while benefitting from improved third-party app support. A unified wearable platform designed by more than one expert doesn't sound bad at all.
Of course, we won't know for sure how all of this will work out until these changes take place, but I'm looking forward to Tizen-Wear OS and hoping that Samsung's wearable ecosystem will grow as a result of this merger.
There's but one problem, though, and it's the fact that Samsung's most recent smartwatch is being left behind. Sort of… Maybe not, but it certainly feels that way.
Samsung's software support promise doesn't sound very promising
Samsung confirmed yesterday that its older Tizen OS smartwatches will continue to be supported for at least three years from the product's release.
"For customers who already own the Tizen OS based Galaxy smartwatches, we are continuing to provide at least three years of software support after the product launch" Samsung said shortly after Google I/O.
In other words, the original Galaxy Watch should receive software support until August this year, while the Galaxy Watch Active and Active 2 will be supported at least until 2022. And because the Galaxy Watch Active 3 was released in August 2020, it has a little over two years left on the clock.
The bigger question, however, is to what extent will Samsung support these devices? We can be sure that they'll receive security patches along the way, but how far will Samsung go to develop new features for an operating system that has an expiration date of two+ years on it?
Let's imagine that Samsung will remain dedicated to Tizen OS for the next couple of years, and any new important feature added to WearOS over this time period will also be ported to Tizen OS. This is the ideal scenario in which Galaxy Watch 3 owners will get the most out of their newly-purchased smartwatch, but I doubt that Samsung will make this ideal scenario happen.
Tizen OS is unlikely to match Wear OS three years from now
I'm not a betting man, but if I were, I'd wager that Samsung will support the Galaxy Watch 3 with security patches and maybe a few new extra features over the years. Perhaps Samsung will even try to match the visuals of Tizen OS with Wear OS.
But improved third-party app support will certainly be missing, and this issue might be compounded, given that some of the existing third-party app developers are bound to spend more time and resources developing apps for Samsung's newer smartwatches that run a different OS. They won't be spending a lot of time on a sinking ship.
Whatever the case may be, Samsung's short statement regarding three years of support doesn't inspire a lot of confidence. The Galaxy Watch 3 isn't even one year old, and it might soon be relegated to security and minor patches if Samsung won't go above and beyond with its promised three-year software support.
If only Samsung could offer an optional Wear OS firmware upgrade…
I never thought that Samsung wouldn't offer an upgrade to Wear OS for some of its newer smartwatches, or at the very least, the Galaxy Watch 3. And, to be fair, we don't know much about the upcoming version of Wear OS and how the platform will change with Samsung's influence. There is a chance that the existing hardware might not be good or powerful enough to handle whatever innovative features Wear OS may or may not bring.
Perhaps it's not technically feasible to offer a Wear OS upgrade for the Galaxy Watch 3, but we know that Samsung is capable of switching operating systems mid-cycle. Let's not forget that the Galaxy Gear was released in 2013, running an Android-based OS with a simple UI, but was updated to Tizen in 2014, right around the time Wear OS (formerly known as Android Wear) debuted.
Now, you could argue that the upgrade from that forked version of Android to Tizen was a lot more significant than it would be switching from Tizen to Wear OS. But I can't look past the fact that the Galaxy Watch 3 — a fairly expensive smartwatch, especially if you consider the Titanium version — is not even ten months old, and yet, it will soon run an operating system that's on its last legs.
Barring any technical limitations that might be at play, I believe that offering an optional upgrade to Wear OS for the Galaxy Watch 3 — at least — would only be fair. Otherwise, the only way Samsung will make Tizen OS worth it for the Galaxy Watch 3 is if the soon-to-be-abandoned platform will somehow keep up with Wear OS for the next three years.
Are you happy with Samsung's arguably vague promise of continued software support for three or so years, knowing that there's a chance of no new major features coming your way? Or would you prefer if Samsung would offer the option to install Wear OS on the Galaxy Watch 3? Feel free to share your thoughts below.
SamsungGalaxy Watch 3 (45mm)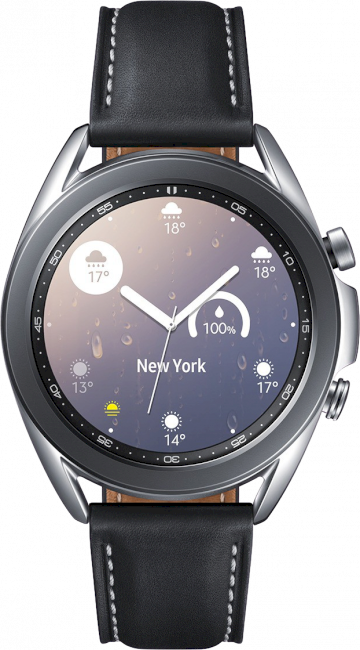 SamsungGalaxy Watch 3 (41mm)