A new generation of Samsung smartwatches is here. The Galaxy Watch 5 series is available for pre-order, and prospective buyers can pick from three sizes and two models, namely the Galaxy Watch 5 (40/44mm) and the Galaxy Watch 5 Pro (44mm). They're both packed with new features and upgrades, so without further ado, here are some of the best characteristics you shouldn't miss out on.
Enhanced Samsung Health and sleep tracking
The Galaxy Watch 5 series enhances Samsung Health with advanced sleep monitoring featuring blood oxygen and snore detection capabilities. In addition, Sleep Coaching comes with daily missions, sleep scores, and reports.
Both the standard Watch 5 and Watch 5 Pro have a BioActive sensor capable of heart rate, blood pressure, blood oxygen, and ECG measurements. And, of course, body composition monitoring and real-time tracking.
The Galaxy Watch 5 Pro benefits from a few exclusive Samsung Health features like Route Workout, Turn-by-Turn Directions, and Track Back. And yes, as their name implies, they're centered around outdoor activities.
A temperature sensor available to third-party app developers
The Galaxy Watch 5 and Watch 5 Pro have a new temperature sensor that further expands the capabilities of the Samsung Health platform. The temperature sensor is based on infrared technology and can work reliably in a wide variety of conditions.
It's open to third-party apps, so, in addition to improving the Health platform, Samsung says that the sensor could generate new creative ideas for app developers.
Great build quality with high-durability materials
Instead of the usual Gorilla Glass DX display protection, Samsung's new Galaxy Watch 5 series employs sapphire crystal display protection for the 1.2-inch and 1.4-inch circular Super AMOLED panels. The new solution is supposedly 60% stronger than Gorilla Glass.
Both smartwatches have an IP68 dust and water resistance rating and are MIL-STD-810H-certified. But the Galaxy Watch 5 Pro goes one step further and wraps its components inside a titanium case.
More customization options than ever
Not only is the Galaxy Watch 5 series more durable than the Galaxy Watch 4, but it is also highly customizable (in select markets).
To begin with, Samsung is releasing a Golf Edition for the entire Galaxy Watch 5 series, including the standard 40/44mm models and the Galaxy Watch 5 Pro. It comes with new colored wrist bands and watch faces.
More impressive is the Galaxy Watch 5 Bespoke Edition, available in select markets at Samsung's online Bespoke Studio. The Galaxy Watch 5 Bespoke Edition now offers enough colors and strap designs to cover 1,032 unique combinations!
Substantial battery life
Samsung upgraded the batteries inside its latest smartwatches. They now have a bigger capacity and can recharge two times faster.
The 40/44mm Galaxy Watch 5 has a 284mAh/410mAh battery, while the Galaxy Watch 5 Pro is powered by a 590mAh unit. They support 10W fast wireless charging, up from 5W on the Watch 4 series.
The standard Galaxy Watch 5 should offer around 50 hours of battery life on a full charge, whereas the Galaxy Watch 5 Pro should last for up to 80 hours. These are the longest-standing Samsung smartwatches the market has seen in years.
Wear OS 3.5 and One UI Watch 4.5
The alliance between Samsung and Google led to the development of Wear OS 3 and has allowed the Korean tech giant to enjoy almost a full year of exclusivity over the new OS version.
Now, in continuation of their collaboration, Samsung and Google are offering One UI Watch 4.5 and Wear OS 3.5. The Galaxy Watch 5 series is better integrated with Google Assistant, Google Maps, and third-party apps like SoundCloud and Deezer.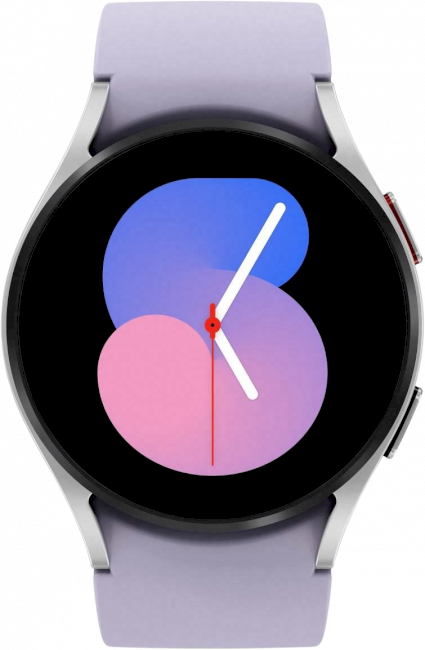 SamsungGalaxy Watch 5
SamsungGalaxy Watch 5 Pro