Samsung may have accidentally given away the Galaxy S10 design. The company recently published an article explaining its OneUI Android Pie overhaul. It seems they got too enthusiastic in the process and ended up creeping the Galaxy S10 design in one of the images.
Samsung has since removed all the images from the post and replaced them with more generic ones. So, where there's smoke, there's got to be fire, right?
Could have been a clever marketing ploy
Reddit user qgtx initially spotted the images in the post on the Samsung Newsroom, one of which had the punch-hole selfie camera cutout. The image matches with most of the previously seen renders and leaks of the device. It looked like a glaring error by Samsung but could have been a clever marketing ploy to begin with. Who doesn't love a little attention after all.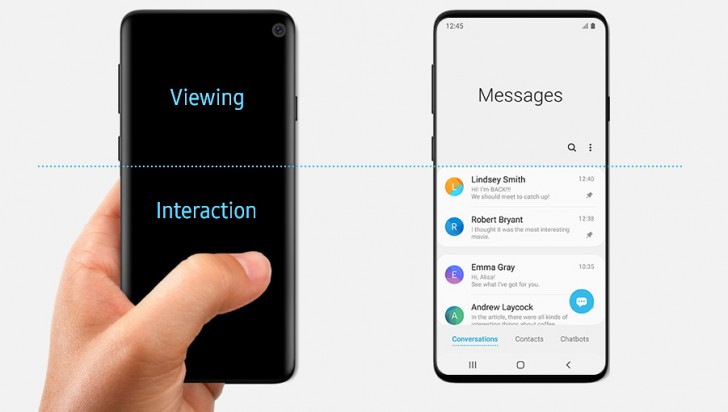 In either case, Samsung has now removed the images. The replacement, obviously, doesn't have the camera cutout and the bezels got thicker too. The original image had much thinner top and bottom bezels. Kudos to Samsung for trying to disguise the bezel again. Here are the two images side by side:
Earlier today, Samsung confirmed the Galaxy S10 launch date. The upcoming Samsung flagship will be unveiled at a Galaxy Unpacked event on February 20, 2019 in San Francisco, California. It's not like there's much to be surprised by in this image. The camera cutout in the front right corner is a done deal and so are the smaller bezels. It seems business as usual otherwise.
What do you think, though? An honest mistake or a marketing ploy? Let us know in the comments section below.