Samsung's first-ever FE-branded tablet didn't have the smoothest launch, since a store page was listed prematurely in Germany days before it was supposed to. Said page was removed, leaving fans wondering when the tablet will go live, but now, the wait is over. Samsung officially launched the Galaxy Tab S7 FE moments ago, and this time, there's no turning back.
The FE (Fan Edition) brand has so far been true to its name. The Galaxy S20 FE is a success story with a lot of fans. And because Samsung has decided that its new tablet should be named 'Galaxy Tab S7 FE' — after weeks of debate over various other tentative monikers, including Galaxy Tab S7 Plus Lite — there's a lot of pressure on this tablet to deliver and not disappoint. It looks promising enough at first glance, and we'll go in-depth in our future review, but for now, let's see what Samsung had to say.
An on-the-go productivity tablet that enables creativity
The Galaxy Tab S7 FE ships with an S Pen, it supports Samsung DeX, and can be paired with an optional Book Cover Keyboard accessory. On the software side, the tablet ships with Android 11 and One UI 3.1.
It offers Multi-Active Window, and much like the Galaxy Tab S7 / Galaxy Tab S7+, it supports Second Screen. This allows the tablet to be used as a secondary screen to a Windows 10 PC through a WiDi (Wireless Display) connection.
The S Pen can be put to good use with the latest version of Samsung Notes and a selection of third-party apps that are included with every Galaxy Tab S7 FE purchase. These are Noteshelf, Clip Studio Paint, and a 30-days free trial to Canva Pro. In some markets, Samsung mentions that Canva Pro and Clip Studio Paint need to be downloaded from the Galaxy Store.
As for media and entertainment, the Galaxy Tab S7 FE is compatible with Samsung TV Plus out of the box, and it ships with four months of YouTube Premium for free.
A closer look at the Galaxy Tab S7 FE hardware
All of the content mentioned above, and more, will be available to the senses through a 12.4-inch, 60Hz TFT LCD with a resolution of 2560 by 1600, and dual stereo speakers with sound by AKG and support for Dolby Atmos.
Beyond the obvious, the Galaxy Tab S7 FE features a Snapdragon 750G chipset. It comprises two Kryo 570 CPU cores operating at 2.2GHz and six Kryo 570 cores that have been tuned for efficiency, clocked at 1.8GHz.
The CPU is accompanied by an Adreno 619 graphics chip and 4GB or 6GB of RAM. Depending on the choice of RAM, customers get 64GB or 128GB of built-in storage. Assuming that's not enough, there's a microSD card slot that can read cards with a capacity of up to 1TB.
There are other hardware bits and pieces worth mentioning, such as the USB-C 3.2 Gen1 port, the 8MP main camera with AF (autofocus), the 5MP selfie sensor, as well as the Wi-Fi-only and 5G connectivity options.
In addition, the tablet is powered by a 10,090mAh battery with support for 45W super-fast charging, although both 25W and 45W chargers need to be bought separately.
The Galaxy Tab S7 FE looks very much like the non-FE models
The Galaxy Tab S7 FE follows the same design language as the non-FE variants released last year. The screen, back panel, and edges are completely flat, barring the protruding rear camera.
The tablet looks modern and can be easily mistaken for a non-FE model. Some differences give it away, such as the shorter magnetic strip for the S Pen, located on the back panel. There are also two fewer speaker grilles because there are two fewer speakers.
But Samsung's first FE-branded tablet and the Galaxy Tab S7 also have a lot in common in terms of software and accessories. So, it looks like a flagship, it has a handful of flagship features, and it can recharge like a bat out of hell (if a 45W charger is used), but it lacks certain premium qualities such as a high refresh rate or AMOLED display. Some shortcuts had to be taken, because it's the FE way, but we'll talk more in our upcoming review about whether or not these were the right shortcuts to take.
Samsung will start shipping the Galaxy Tab S7 FE in June, here are the pricing and availability details. It will be available in four Mystic color options: black, green, silver, and pink.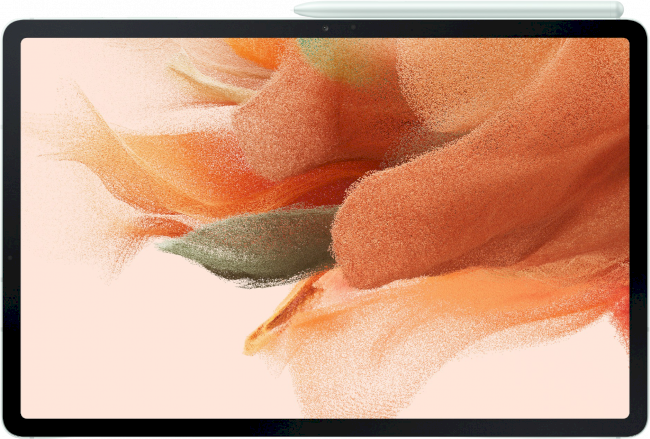 SamsungGalaxy Tab S7 FE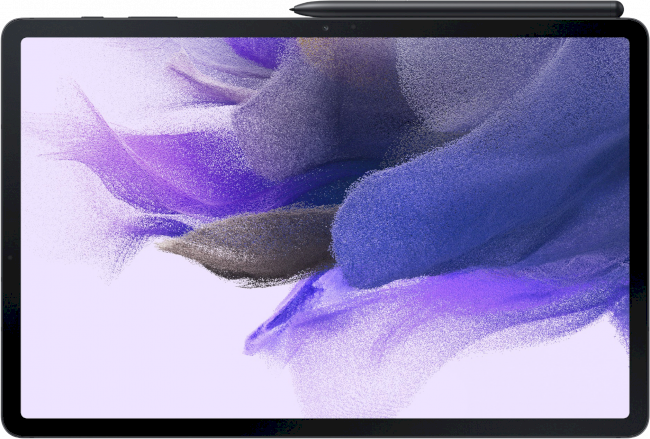 SamsungGalaxy Tab S7 FE 5G