The Galaxy A01 is finally hitting the shelves and the first country to get it appears to be Vietnam. The Galaxy A01 will become available for purchase in Vietnam in just a couple of days on February 6, and prospective buyers will be looking at a VDN 2,790,000 ($120) price tag.
The moniker and price tag should be big-enough clues that the Galaxy A01 is an entry-level smartphone. It's supposed to be an even cheaper alternative to the yet-to-be-announced Galaxy A11, featuring a dual rear camera setup comprising 13MP and 2MP sensors, and a 5MP front-facing shooter.
The Galaxy A01 is powered by the Snapdragon 439 SoC
Samsung didn't disclose much about the choice of silicon when it revealed the Galaxy A01 a couple of months ago, other than it will have an octa-core configuration with CPU clock rates of up to 2GHz.
The recent announcement in Vietnam sheds more light on the smartphone's hardware configuration and, as it turns out, the Galaxy A01 doesn't use an Exynos SoC at all. Instead, it is equipped with the Snapdragon 439 chipset. This is the first time when a Samsung smartphone employs this particular solution from Qualcomm, but the Snapdragon 439 has been a popular choice for various other OEMs – including VIVO and Xiaomi – and their budget phones.
Other details pertaining to the Galaxy A01 include a 5.7-inch TFT Infinity-V display with a resolution of 1520 by 720, 2GB of RAM, 16GB of built-in storage, and a 3,000mAh battery.
The Snapdragon-powered Galaxy A01 will launch in Vietnam in black, blue, and red, as shown in the image gallery above. It will be available in various retail stores across the country beginning February 6, and it will likely launch in other markets soon after. The Verizon and T-Mobile versions of the Galaxy A01 have been approved by the FCC a couple of weeks ago so the device is very likely to go live in the United States and other markets very soon.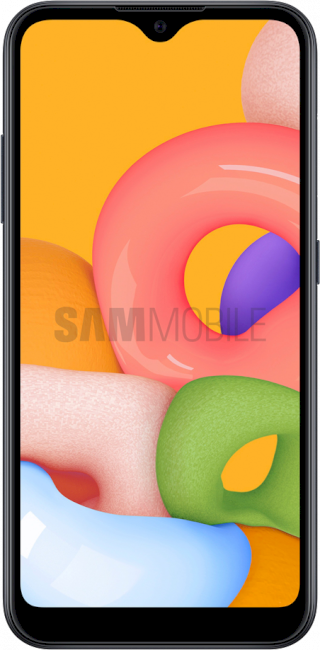 SamsungGalaxy A01