Samsung unveiled the Galaxy M01s last week in India with entry-level features and specifications. It is a revised version of the Galaxy M01, which debuted in the Indian market just last month, alongside the Galaxy M11. While the Galaxy M01s comes with an extremely affordable price tag, has a bigger display, and a faster processor, it is a downgrade in terms of software.
The Galaxy M01s sports a larger, 6.2-inch screen compared to the Galaxy M01's 5.7-inch screen, but it is still an LCD display and its resolution stays at HD+. You're getting a larger display, but not necessarily a higher quality one. In terms of processing power, the Galaxy M01 uses a Snapdragon 439 processor, while the Galaxy M01s uses the Helio P22 SoC. While both chipsets are made using a 12nm process, the Helio P22 has a slightly higher CPU clock speed.
The Galaxy M01s runs a two-year-old operating system, Android 9, out of the box. It's a shame, really, as Google is ready to release Android 11 within the next few weeks. Samsung should've released the smartphone with Android 10 and One UI 2.0/2.1 as it did with the cheaper-priced Galaxy M01.
Both smartphones feature a 13MP+2MP dual-camera setup at the rear, but the Galax M01s gets an 8MP selfie camera compared to the Galaxy M01's 5MP selfie camera. The Galaxy M01s also gets a fingerprint reader, something that was sorely missing from the Galaxy M01. Other features such as dual SIM card slots, LTE, Wi-Fi b/g/n, Bluetooth 4.2, microUSB port, and a headphone jack remain the same on both phones.
For a detailed comparison of the Galaxy M01 and Galaxy M01s' spec sheets, check out our devices section, where you can also see how other Galaxy smartphones stack up against each other with our new specs comparison tool.

Blue (Blue)Black (Black)Red (Red)

Gray (Gray)Light Blue (Light Blue)
Bar: 147.5 x 70.9 x 9.8 mm

Bar: 156.9 x 75.8 x 7.8 mm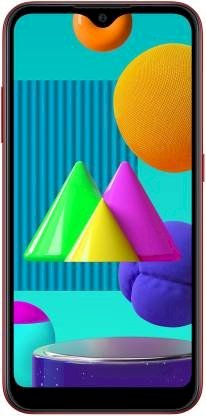 SamsungGalaxy M01