What many had expected to be introduced as the Galaxy Tab S5 has today been formally launched as the Galaxy Tab S6. Samsung's latest flagship tablet follows the same design philosophy as the Galaxy Tab S5e. It's thin, light and has slimmer bezels. Samsung feels that this is the right moment for a new flagship tablet as the market is showing signs of recovering, so it's putting a powerhouse on the market. SamMobile got an opportunity to spend some time with the tablet and you will find our first impressions of the device in our Galaxy Tab S6 hands-on that follows below.
Galaxy Tab S6 hands-on: Design
As previously mentioned, the Galaxy Tab S6's design is quite similar to the Galaxy Tab S5e. The similarities are quite evident upfront since it opts for slimmer bezels as well. The back, however, make it stand out. There's a new groove at the back where the S Pen attaches magnetically. The Galaxy Tab S5e, as many of you may be aware, doesn't come with a stylus. You'll also see two rear cameras. The Galaxy Tab S6 is Samsung's first tablet with a dual camera at the back.
Since this is a flagship product, Samsung has gone with an in-display fingerprint sensor instead of placing a conventional sensor in the power button. In the time that we spent with this device, we found that the in-display fingerprint sensor works very well in both portrait and landscape orientations. This is yet another difference between this tablet and the Galaxy Tab S5e and last year's Galaxy Tab S4. It also comes with a new S Pen in the box.
The overall slim and light metal build feels solid as you'd expect. Some you might dock points from the device since it doesn't have a 3.5mm headphone jack. The Galaxy Tab S5e didn't as well but at least it came with a USB-C to 3.5mm dongle in the box. We have confirmed with Samsung and the company says it's not going to ship the Galaxy Tab S6 with the dongle. It feels that Bluetooth headphones are now available for every price range so it doesn't have to provide that accessory anymore.
One can agree with Samsung's logic but it has to be said that nothing drastic has happened in the Bluetooth headphone market over the past six months between the Galaxy Tab S5e and Galaxy Tab S6's launch. It would have been better if Samsung shipped a dongle with this new tablet as well; it's a flagship after all. What we also wish Samsung had done this time around was make the Galaxy Tab S6 water and dust resistant with an IP67 or IP68 rating. It would provide customers with more peace of mind and flexibility when using their device. This almost seems like a missed opportunity for a flagship tablet like the Galaxy Tab S6, especially as prices for these tablets are continuing to rise each year.
Display
The 10.5-inch display of the Galaxy Tab S6 is exactly the same as the one on the Galaxy Tab S5e. Samsung's AMOLED panels are generally exceptional and we found no problems with this one as well. It looks stunning with vivid colors. With a brightness rating of over 500 nits, it's really in a league of its own as far as tablets are concerned. The display has support for the S Pen which comes in the box. Using the stylus on the device's display opens up a whole new world of functionality and possibility on the Galaxy Tab S6. We'll go more in detail about the display's qualities in our full Galaxy Tab S6 review.
Software
Samsung is shipping the Galaxy Tab S6 with One UI 1.5, the latest version of its One UI custom skin. The tablet comes with Android 9.0 Pie and is going to receive Android Q, whenever Samsung starts rolling out the next major iteration of the OS. Most of the features here are already present on other Samsung devices. They include the system-wide Night mode and Pie's Digital Wellbeing features.
Since the S Pen has received an update, it can now perform the very same functions that you can do with the Galaxy Note 9's S Pen. It can be used as a remote in presentations or as a clicker in the camera app. There are some novelty features as well, such as the ability to use augmented reality technology to draw a pair of glasses on your face in selfie mode. This isn't something that many people will use a lot but it's good to see that Samsung is trying new things. The gesture controls which the S Pen enables in the camera app will be expanded as well since Samsung will open up the SDK to developers. This will allow them to integrate the S Pen controls in their own apps.
Performance
In the limited amount of time that we had with the Galaxy Tab S6, our first impression was that this tablet is blazing fast. You can thank the latest Snapdragon 855 processor for that. Samsung has done itself a favor by shipping this device with current-generation silicon. Couple that with a hefty serving of RAM (6GB on the base model, 8GB on the higher-end variant) and you've got a true Android powerhouse. All of this extra power translates into a much smoother experience with Samsung DeX, something professional users who rely on DeX will greatly appreciate. We'll talk more about the performance gains here in our full review.
Conclusion
This Galaxy Tab S6 hands-on is only meant to inform you of our first impressions of this device. We'll have a detailed Galaxy Tab S6 review ready in the near future so do check back for that. Despite our limited time with the device, we do have some serious questions about whether or not it will succeed in the market. The price is the elephant in the room: Does it offer enough to justify the 300-400 euro premium over the Galaxy Tab S5e?
Nobody really uses a tablet for photography. Samsung could have justified the price tag with a ToF sensor instead of a wide angle camera. A ToF sensor would actually make sense in a tablet since it would enable new AR experiences which will be useful for both consumers and business users. The IP water and dust resistance rating, or lack thereof, sticks out like a sore thumb as well.
There's no denying the fact that the Galaxy Tab S6 is a beautiful tablet. It feels really nice and premium in the hands. It has a gorgeous display and all the power that you could want from a tablet in 2019. But will customers opt for it given the shortcomings? Only time will tell. We expect to receive the Galaxy Tab S6 next month and will then have a full review up for you in no time.
What's your first impression of the Galaxy Tab S6? Is it a worthy upgrade or should the average customer just stick with the Galaxy Tab S5e?
SamsungGalaxy Tab S6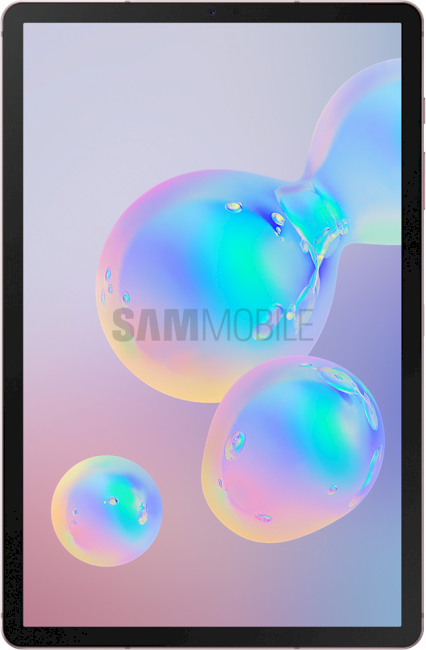 SamsungGalaxy Tab S6 LTE