Samsung didn't adopt gradient colorways for its smartphones as early as its Chinese rivals did. However, the Aura Glow Galaxy Note 10 is the perfect example of something done right. It toyed with minor gradients on a couple of Galaxy A handsets before adopting them for flagships.
The Prism Silver Galaxy S10+ is one such example. It's a muted yet striking gradient. With Aura Glow, Samsung has gone all out with the gradient. It's like the designers went to the color department at Samsung and just said "Hit me with the colors fam!."
Aura Glow Galaxy Note 10 has all the colors you'll ever need
Parallels will obviously be drawn between the Aura Glow Galaxy Note 10 and Note 10+ and devices like the Huawei P30 Pro. Huawei has been doing the gradient thing for its flagships since the past few years. The Aurora P30 Pro was perhaps its most daring implementation of a gradient colorway. There was some marketing gobbledegook about how it was inspired by nature and that the palette of green and blue hues was meant to showcase the shift of Northern Lights across the night sky. This phenomenon is known as Aurora Borealis, so no surprises where it got the name for this color from.
Colors are a simple yet effective way of self-expression. You need not be a master of public speaking to register your protest against something – just turn up where everyone has gathered wearing black and people will know you support the cause. They're an incredible window into someone's personality. It is that individualistic preference of colors which has made gradient finishes so popular on smartphones. You may feel that a bright red phone clashes with your personality, but a gradient that changes the way it looks based on the way the light hits it is a much better alternative.
#Samsung #GalaxyNote10 Aura Glow has all the colors you'll ever need. pic.twitter.com/IvYEBCCD9j

— SamMobile (@SamMobiles) August 16, 2019

It allows you to move from the staples — the colors that never steer you wrong, your blacks and greys — to embrace colors that you may not pick in isolation. The iridescent Aura Glow Galaxy Note 10 is the perfect realization of this ideal. It's striking and unapologetically eye-catching. It is virtually impossible to capture all of the intricacies of its hues in photos; believe me, we've tried. It's something that has to be experienced in person. Aura Glow is legitimately gorgeous with the inexhaustible changes from reds to blues to greens to a blend of colors that you can't even comprehend.
You can't put a pin on a single color with Aura Glow and we think that this has been an incredible achievement by Samsung. It's the most epic colorway we have seen from the company so far, a true gradient, miles ahead of the blend of two colors that its rivals call a gradient. Early responses indicate that the Aura Glow Galaxy Note 10 will be the choice of most customers. Our own poll indicated that the majority of SamMobile readers prefer Aura Glow much more than any other color.
Circling back to individualistic preference, I've only ever opted for black on all of my Samsung smartphones. Care to guess what I've picked for my Galaxy Note 10+?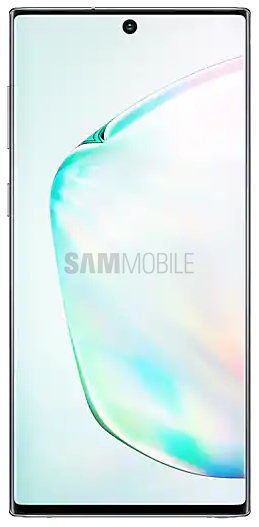 SamsungGalaxy Note 10