Natural Cycle's ground-breaking algorithm is coming to a smartwatch for the first time, and it's none other than Samsung's Galaxy Watch 5. Samsung Electronics announced a new partnership with Natural Cycles, and the two companies will bring temperature-based menstrual cycle tracking to the latest Galaxy smartwatch lineup.
The algorithm will leverage Samsung's superior skin temperature sensor technology from the Galaxy Watch 5 smartwatch series to give users more detailed information regarding their menstrual cycle. Users will also have access to the Cycle Tracking feature, which The Ministry of Food and Drug Safety (MFDS) of the Republic of Korea recently approved. The same feature also complies with CE Marking requirements and has been registered with the FDA (U.S. Food and Drug Administration).
Coming to a smartwatch for the first time
According to co-founder and co-CEO of Natural Cycles, the app "has helped millions of women around the world take control of their fertility and this partnership will allow Samsung to leverage our fertility technology to offer temperature-based cycle tracking through a smartwatch for the first time." So far, the app has been available on smartphones.
The feature will be available via the Samsung Health app, exclusive for the Galaxy Watch 5 and Galaxy Watch 5 Pro. Samsung added menstrual cycle tracking capabilities to its Health app in February 2020 and released its latest smartwatches last year. The Watch 5 comes in two sizes: 40mm and 44mm. The Galaxy Watch 5 Pro has more advanced fitness-tracking features and is available in one size: 46mm.
The Natural Cycles functionalities will launch in the markets listed below, but Samsung hasn't revealed an exact release date for Galaxy Watch 5 users just yet.
Austria, Belgium, Bulgaria, Croatia, Cyprus, the Czech Republic, Denmark, Estonia, Finland, France, Germany, Greece, Hungary, Iceland, Ireland, Italy, Korea, Latvia, Lithuania, Luxembourg, the Netherlands, Norway, Poland, Portugal, Romania, Slovakia, Slovenia, Spain, Sweden, and Switzerland, the UK, and the USA.
SamsungGalaxy Watch 5 Pro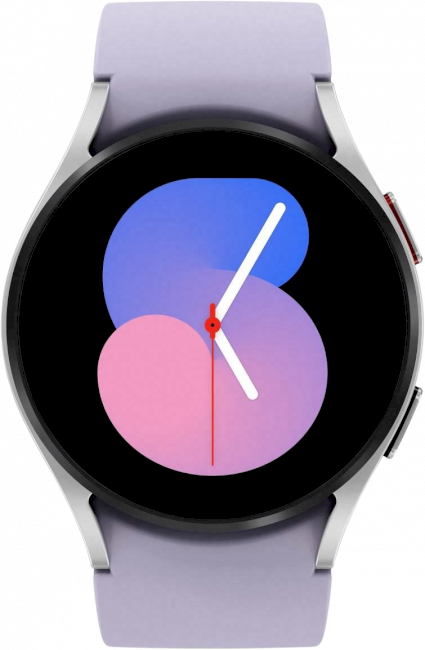 SamsungGalaxy Watch 5
SamsungGalaxy Watch 5 44mm