Samsung announced its new Galaxy Watch 5 series at Unpacked earlier today. By now, you may know that the lineup consists of a base Galaxy Watch 5 model and the Galaxy Watch 5 Pro. The two smartwatches share the same DNA but are also different enough to warrant a deeper dive into what makes them tick. So, what are the main differences between the Galaxy Watch 5 and the Galaxy Watch 5 Pro?
First of all, the Galaxy Watch 5 is available in two sizes (40mm and 44mm), whereas the Galaxy Watch 5 Pro is only available in a 45mm configuration. Beyond the obvious size differences, another visible discrepancy lies in the rotating bezel, or lack thereof. None of the Galaxy Watch 5 models have a rotating physical bezel; however, the Galaxy Watch 5 Pro does have a thicker, concave (fixed) bezel, which is more of a design element than a functional component.
Galaxy Watch 5 vs Watch 5 Pro: Design and build quality
The Pro-labeled smartwatch uses higher-quality materials in its construction. Although both the Watch 5 and Watch 5 Pro use sapphire crystal display protection (with 60% scratch resistance improvement), only the Galaxy Watch 5 Pro has a titanium body and a D-Buckle wrist strap.
Galaxy Watch 5 vs Watch 5 Pro: Hardware similarities and differences
Beyond the obvious design differences, the Galaxy Watch 5 and Watch 5 Pro share the same 5nm Exynos W920 chipset, 1.5GB of RAM, and 16GB of storage. They also run the One UI Watch 4.5 based on Wear OS 3.5 at launch.
Performance should be similar across all Watch 5 variants, but one key difference is that the Galaxy Watch 5 Pro features a much bigger battery. The Pro model is powered by a 590mAh battery, while the standard 40mm and 44mm Galaxy Watch 5 variants have 284mAh and 410mAh batteries, respectively.
The Galaxy Watch 5 Pro should offer up to 80 hours of usage on a single charge. Battery life on Samsung smartwatches after the original Galaxy Watch has been a reason for concern, but both the Watch 5 and Watch 5 Pro set higher standards.
Galaxy Watch 5 Pro gets exclusive Health features
Samsung's new smartwatches get a temperature sensor and better Health features, including Sleep Tracking and Sleep Coaching with sleep analysis reports, scores, and daily missions. They also have heart rate, blood pressure and blood oxygen monitoring, ECG, and snore detection.
However, the Galaxy Watch 5 Pro gets three exclusive Samsung Health features, including Route Workout with support for GPX file export and import, Turn-by-Turn Directions for hiking and cycling activities, and Track Back for reversing your route to the starting point.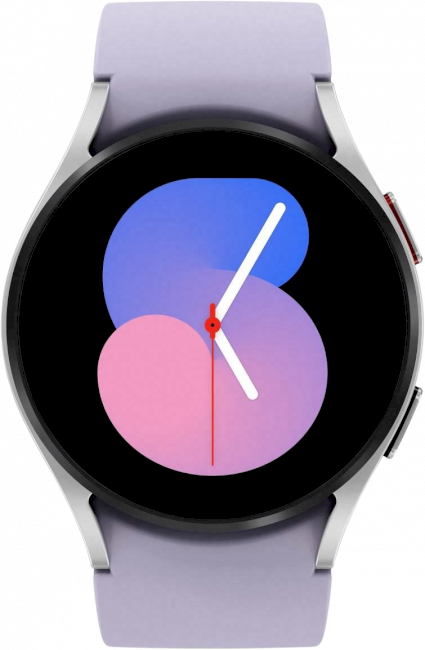 SamsungGalaxy Watch 5
SamsungGalaxy Watch 5 Pro