The Galaxy A80 – Samsung's most uniquely-designed smartphone of the year – is now available for purchase, bringing along a sliding rotating camera that might raise some eyebrows as well as questions regarding durability. In a recent blog post on its official website, the company has highlighted some of the inner workings of the device, and how the sliding rotating mechanism was created using a single motor instead of two.
More importantly, the company seems to emphasize that the Galaxy A80's camera setup has been rigorously tested and even shared a video of the process. But despite Samsung's apparent confidence in the setup, so far the sliding rotating camera doesn't seem to be without its flaws.
We're already seeing the camera getting stuck…
We've had our hands on the Galaxy A80 for a couple of weeks now, and our full review should be going live on SamMobile TV soon. But what we can say right now is that the sliding rotating camera is not always working perfectly. In our early testing, we've seen the camera getting stuck halfway through the sliding process as if the "teeth" showcased in Samsung's latest pictogram don't always work as intended. And it's not just us. We've seen this issue manifesting itself with other units. About a week ago, Twitter user @bencsin shared a clip with the Galaxy A80's camera getting stuck not once, but four times.
Now, Samsung shared a short video showcasing the testing process of the phone's intricate camera mechanism, and it all seems to be working perfectly. But perhaps something went wrong between the phone's testing and mass production. Otherwise, it's rather difficult to believe that this apparent issue made it out of testing without Samsung knowing anything about it.
https://www.youtube.com/watch?v=iULao8DZXtw
It doesn't look good considering how slow this innovation came to the market
The Galaxy A80 is supposed to show off the fact that Samsung can do innovative things and come up with creative solutions to various design difficulties, such as display notches. But what makes matters worse for Samsung is that the Galaxy A80 had to be pushed back from its original late-May release, when in fact, the company should be quicker with its innovations. And now it's still not entirely clear whether the phone is truly ready for release.
The company basically struggled with the device for months before it brought it to the public. Meanwhile, rival companies like Oppo have already launched similar – although perhaps less ambitious – concepts. But now that the Galaxy A80 is out, the issues we're seeing with the sliding rotating mechanism might cast a shadow on the company's ability to innovate. Or at least its ability to do this in a timely manner. The Galaxy Fold, which is a highly ambitious device, was also admittedly rushed to the market.
Our advice to Galaxy A80 prospective buyers is to keep these apparent issues in mind, and perhaps wait for more reviews to be published before committing to a purchase. There's no knowing if this issue is widespread or if it will worsen over extended periods of time. At this point, there's a risk attached to purchasing a Galaxy A80 because of its sliding rotating camera, and that's just a shame given the clever engineering that went into creating it.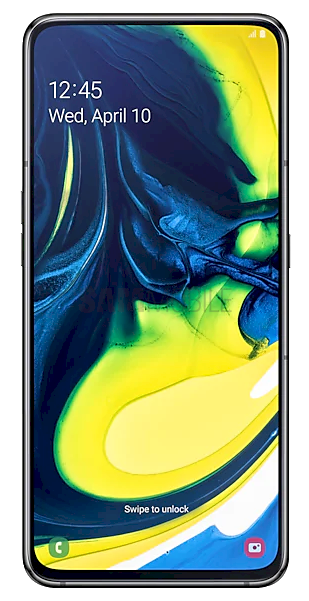 SamsungGalaxy A80