The Galaxy Watch 3 comes with dozens of fitness tracking modes including swimming. The smartwatch itself is 5ATM + IP68-rated and Samsung claims it has a water resistance rating of 50 meters under the ISO standard 22810:2010. The IP68 rating was achieved after testing the device for submersion in up to 1.5 meters of freshwater for up to 30 minutes, so all in all, it's safe for you to take the brand-new Galaxy Watch 3 for a swim.
Nevertheless, you should be keeping in mind that although the Galaxy Watch 3 itself boasts these ratings, the leather bands attached to the watch are susceptible to water damage just like any other leather band would be. Therefore, if you want to avoid ruining the leather bands that ship with your Galaxy Watch 3, you might want to look for an alternative solution manufactured from water-resistant materials such as silicone. Thankfully, you don't have to look very far for such as solution.
You can repurpose your OG Galaxy Watch bands or use Active 2 Sport Bands
Regarding the titular question, the silicone bands of the original Galaxy Watch do indeed work with the Galaxy Watch 3, so if you're upgrading from the OG model to the latest, you could repurpose the old bands for your new smartwatch before going for a swim. Of course, you'll have to use the bands from the 42mm Galaxy Watch together with the 41mm Galaxy Watch 3, and likewise, you'll need the bands from the 46mm OG Watch if you happen to own the 45mm Galaxy Watch 3.
In essence, any 20mm bands – first or third-party – should work with the 41mm Galaxy Watch 3, while 22mm bands should be compatible with the 45mm variant. With that in mind, you could also use the Sport Band accessory originally designed for the Galaxy Watch Active 2 with your Galaxy Watch 3, as long as you keep in mind that the Active 2 bands are always 20mm and don't come in 22mm sizes.
In case you're wondering, Samsung continues selling 20mm and 22mm original Galaxy Watch silicone bands in a variety of colors for $29.99 a piece. Similarly, the 20mm Galaxy Watch Active 2 Sport Band is available in the USA for $39.99 and can be acquired in one of five color options including Aqua Black, Cloud Silver, Pink Gold, Violet, and Vivid Green. Needless to say, there are a lot of opportunities for mixing and matching if this is what you're after.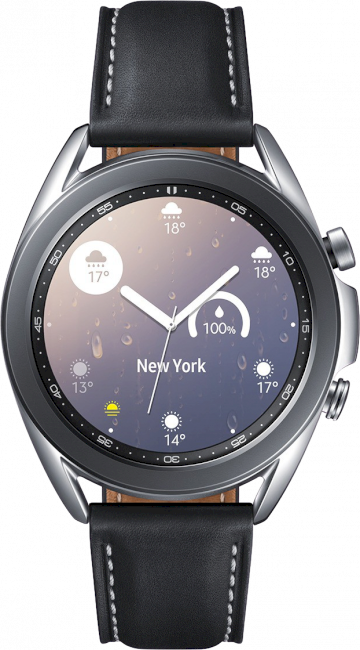 SamsungGalaxy Watch 3 (41mm)
SamsungGalaxy Watch 3 (45mm)